12/06/2017
MUD ROTARY RIGS 2000' AND DEEPER
LIQUIDATION OF OILFIELD COMPANY -  $125,000 for everything which includes: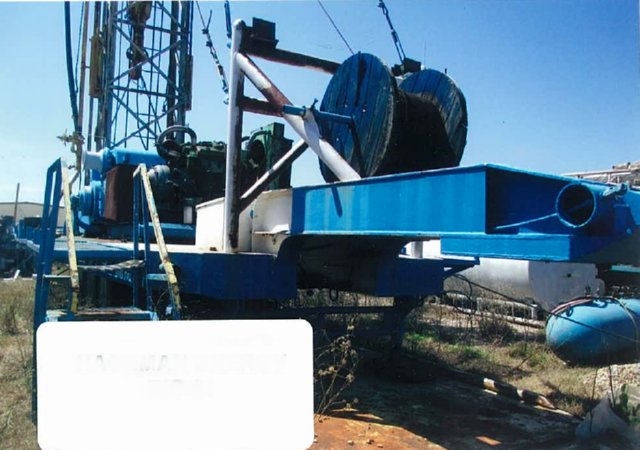 IDECO H35 DRILLING RIG  (Ref#5835T)  Rated 6000' with 4-1/2" pipe, Double drum with air control, double 15" Parmac brake, Foster makeup and breakout, automatic cathead, driller's console, 94' x 180,000# double scoped derrick, (5) 36" clustered sheave crown block, double racking board, Ideco 2-engine compound (2) 8V71N Detroit diesel engines, air compressor, 8'H substructure, 20'L top doghouse, 40' L bottom doghouse, Ideco 100T travelling block, 85 Ton hook, 16" Ideco rotary table, kelly, kelly drive bushing, Ideco 75T swivel, rotary hose, desilter, (1) GA550 mud pump with 6" liners 550 hp w/Cat 3408 diesel engine, (1) Oilwell 235P mud pumps with 6" liners p/b (2) 671 Detroit diesels, shaker pit, water tank, fuel tank, tongs, pipe spinner, catwalk, pipe racks.

BREWSTER N4 DRILLING RIG  (Ref#5834T)  5500' depth rating with 4-1/2" pipe, poor/fair condition, single drum with 7/8" Lebus grooving, makeup and breakout catheads with drillers air console, air throttle and air clutch to drawworks engine and mud pump, 78' x 100,000 cable raised and scoped derrick, mounted on 3 axle trailer, Detroit 12V92 diesel engine, 1' H x 10'W x 30'L mud boat with manual jacks, trailer mounted doghouse, 40 bbl water tank, 200kw generator, Reagan 3000 BOP, 150 ton 3-sheave block with unitized hook, 18" Brewster rotary table, kelly drive bushing, Gardner Denver FXK duplex mud pump 14" stroke x 6" liners, bull wheel, guard, Oteco shear relief valve, p/b 6 cy Cummins diesel engine.  Idecal duplex mud pump 12" stroke x 6" liner, guard, Oteco shear relief valve p/b 6 cyl Detroit diesel, mud mixing, shaker, 125 ton kelly and swivel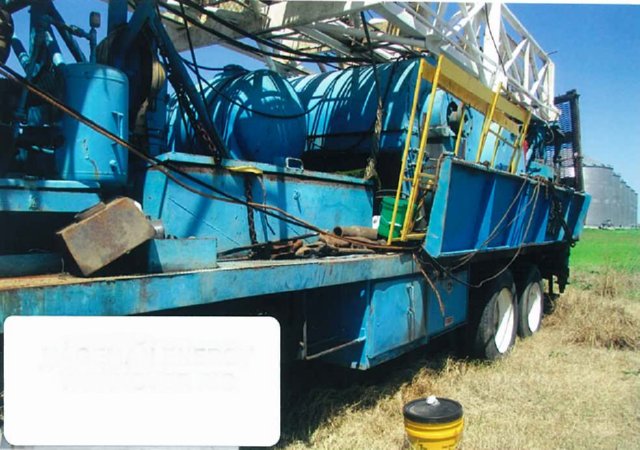 SKYTOP BREWSTER WELL SERVICE RIG  (Ref#5836T)  Double drum 9/16" line, 4 axle carrier, workover fold outs sub ramps, Double BOP, weight indicator, complete tooling, Foster tongs, 80' x 140,000# derrick, Detroit 6V71 diesel engine with 6 speed Allison transmission 

Support equipment:
6200' of 3-1/2" x 15.50# drill pipe
(20) drill collars 4" – 6-1/2"
Misc 2-3/8" DP sucker rods and casing
(3) 40' transportation floats
(1) International 7200D winch truck
(1) 30 bbl dual axle water tanker
Paystar 5000 pole truck with haul bed and winch
40' tri-axle gooseeck trailer
Water well unit with derrick and power
3-axle pusher tailer
Peterbilt tractor with sleeper
Swivel with kelly
Wireline unit
14 oil tanks
3 pumps jacks
Fuel tank on (blue) drop deck
Trailer mounted generator set (green)
Misc tools/parts

PACKAGE PRICE FOR THREE RIGS AND SUPPORT EQUIPMENT:  $125,000
---
REICHDRILL RT-1800  (Ref#10229T)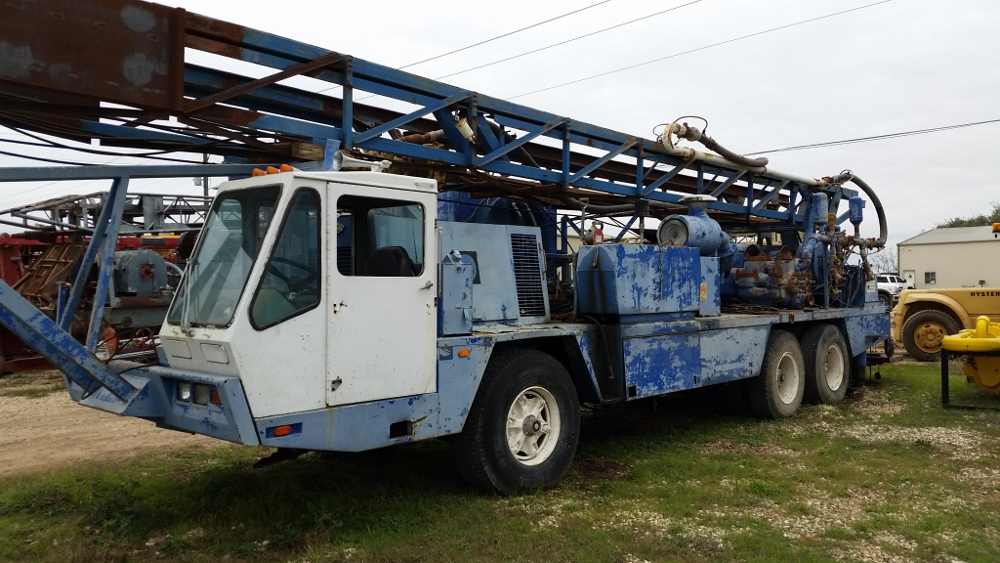 Manufactured 1987, double drum drawworks hydrostatically powered, 10" retractable rotary table, 825/300 GHH air compressor, Gardner Denver 5-1/2 x 8 mud pump, Pullmaster hydraulic service winch, (3) hydraulic leveling jacks, mounted on 1981 Crane Carrier 6 x 4 powered by Cummins NTTA855 (400 hp) engine, 24' x 4-3/4" hex kelly, 2-sheave travelling blocks, King swivel with 3" oljmbing, hydraulic chain pulldown, LF Series breakout tongs  Price:  $150,000
---
FAILING 2500CF  (Ref#10227T) 
Upgraded mast with 132,500# capacity, heavy duty Ewbanks rotary table, large standpipe and kelly for flooded reverse rotary drilling, Tier 3 diesel engnes, (2) Gardner Denver 5 x 10 mud pumps, mounted on 4 axle Crane Carrier  Price:  $295,000
---
GARDNER DENVER 3000  (Ref#13342R)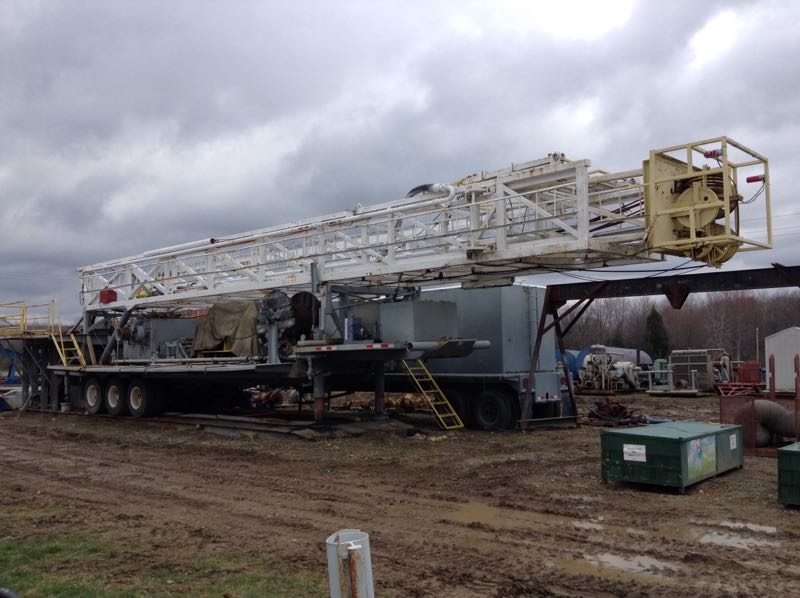 Manufactured 1984, Single Drum, Parmac 22SR Hydromatic brake, 95' x 250,000# hydraulically raised and scoped free standing mast (no guy lines required), 18" Gardner Denver rotary table, mounted on 3-axle trailer, Detroit 8V92N engine (380 hp), Allison HT750DRD automatic transmission, 100 ton Gardner Denver swivel, 100 ton 4-sheave Gardner Denver trav elling block/hook combo, Foster make up and breakout catheads, Type C Web Wilson breakout and makeup tongs, 4-1/2" x 36' kelly with drive bushing, drill string weight indicator, hydraulic leveling jacks, night lights
Price:  $225,000
---
FAILING 2000 (Ref#7498R)
Manufactured 1978, double drum, 6 lines, 100000#+ hook load, mounted on 3 axle CCC with Cummins engine, PTO, 4 ½" x 31' hex kelly, 18" stationary table, hydraulic pulldown, air clutches, breakout tongs, no air, no rod box or pipe rack, good running condition, includes skid mounted 7x10 mud pump with Detroit 318 engine, and 2300' of 4" x 30' drill pipe & 150' of 6" drill collars on trailer  Price:  $325,000  PRICE REDUCED:  $245,000
---
FAILING JED-A (Ref#706R)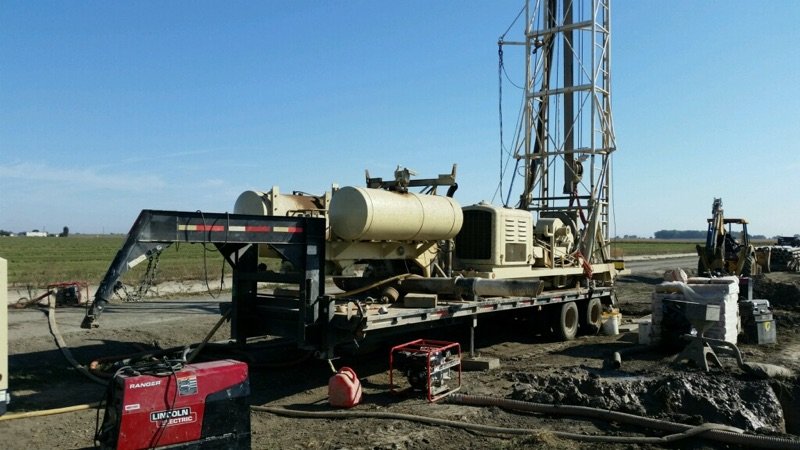 Set up for reverse circulation, Manufactured 1976, 48' mast, 6" x 24' kelly, trailer mounted, 600' of 6" x 20' flanged drill pipe, good condition, currently drilling 
Price $225,000  PRICE REDUCED:  $150,000
---
SPEEDSTAR SS40 (Ref#14180R)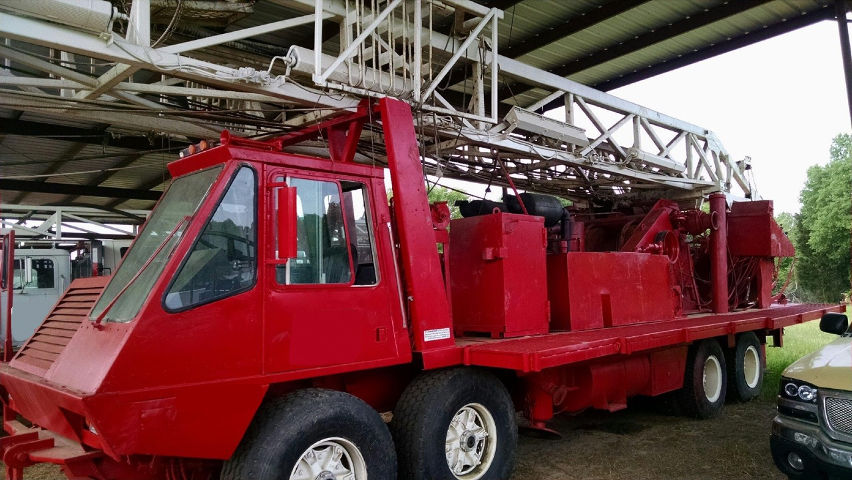 Manufactured 1981, stacked triple drum drawworks with PO-218 air clutches, hydromatic brake, make up and breakout catheads, 60" single piece hydraulically raised mast, derrick night lights, McKissick 50 ton 3-sheave traveling blocks, King 50KG 3" water course mud swivel, 4-1/2" x 38' long square kelly, mounted on 8 x 4 Crane Carrier with Detroit 8V71 diesel engine, Detroit 6V71NA engine with Allison automatic transmission, 18" Speedstar rotary table, 4 hydraulic levleing jacks.
Price: $395,000 PRICE REDUCED: $360,000
---
PORTADRILL TKT PROSPECTOR (Ref#8281N)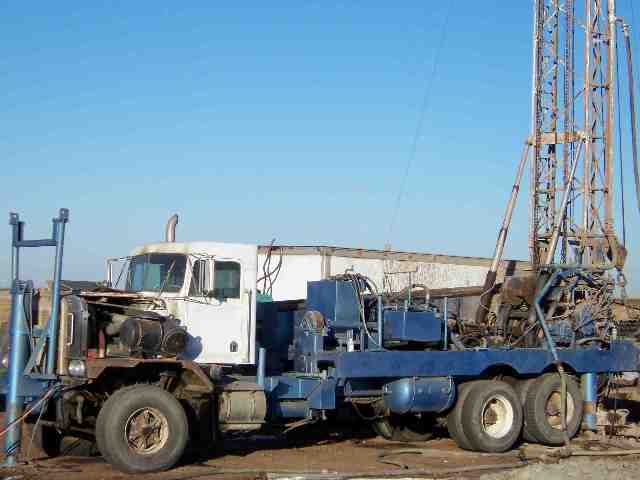 Manufactured 1978, Triple drum, new bearings on drawworks and pulldowns, 5-1/2" x 8" Gardner Denver duplex mud pump, no air compressor, 57' x 60,000# hydraulic raised mast, Racking board, Mounted on 1978 Kenworth tandem axle truck with 8V92 Detroit diesel and PTO, 4 hydraulic leveling jacks and 2 rear screw jacks, Hydrostatic drive drawworks and rotary table, water injection, 8-1/2" retractable rotary table (4 speed transmission on rotary table), will run Range 3, 4-1/2" x 25' kelly, 4 speed hyd pulldown 
Price:  $95,000

Also available at extra cost:
2000' of 3-1/2" x 20' drill pipe and additional rebuilt compressor
500' of 4-1/2" flush joint pipe
3" kelly
---
BETHLEHEM S45E SINGLE DRUM DRILLING RIG  (Ref#4637R)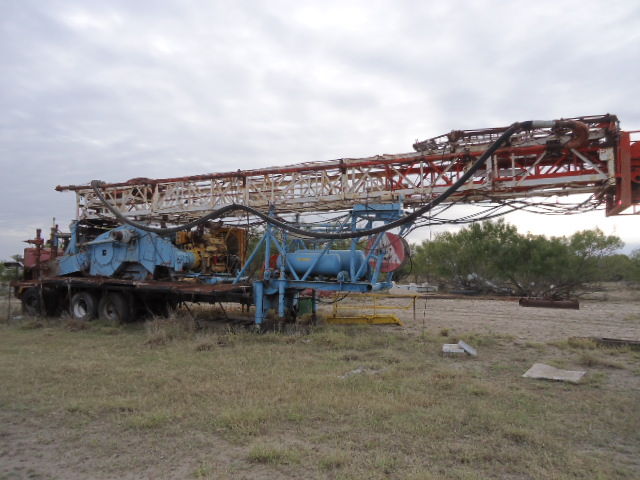 Wilson 96' x 255,000# SHL hydraulically telescoped derrick, Lebus grooved for 1-1/8" cable, Foster make up and Kelco breakout catheads, Parkersburg 15" Hydromatic brake, Cat 3408 engine with electric start (under 100 hours since rebuild), Twin Disc F-11524-TC-0 torque converter, 4-stage hydraulic derrick raising cylinders,, 4" mud standpipe, mounted on tandem axle trailer with 3rd tag axle, Ideco "Shorty" travelling block, access type "B" make up and breakout tongs, Ideco 17-1/2" rotary table (up to 27" available), Gray Type C150 ton swivel, 4-1/4" hex x 38' long kelly, back on ramp and substructure  Price:  $115,000
---
ZJ70LDB 2000HP DRILL RIG  (Ref#15720T)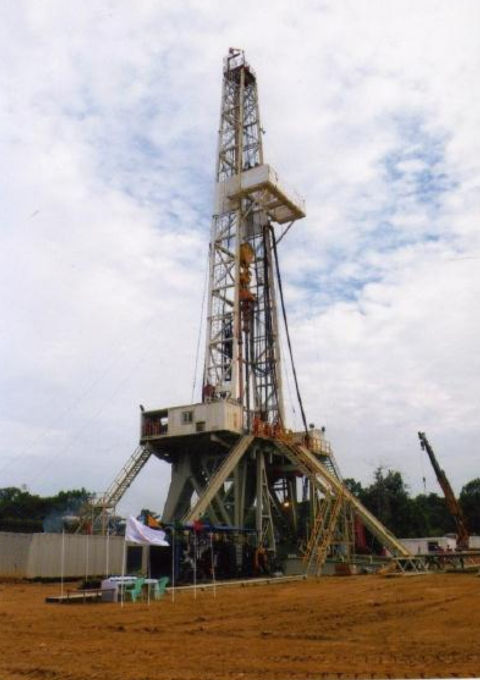 Manufactured 2009, well-maintained by large international contractor, currently stacked in Asia.  (Cost $10,000,000 USD new).  This is a complete turnkey package including tubulars and is ready for shipment.  Full inventory and photos available on request. 
PRICE REDUCED TO $4,000,000
---
EWBANK M-100 (Ref#3942Na)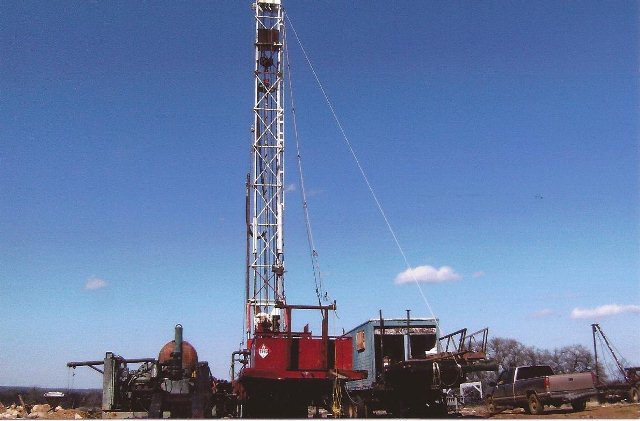 Manufactured 1980, Triple drum, 58' derrick, 18" rotary table, 8V71 Detroit diesel, 4-1/4" x 39' kelly, KG50 King swivel, 4 lines ¾" line, mounted on 3 axle trailer. 
7-1/4" x 10" FO FXD GARDNER DENVER Mud Pump with Detroit 6V92 mounted on tandem axle low boy
1,300' of 4-1/2" drill pipe, (6) 6" drill collars, tandem axle pipe box with laydown buggy
24' doghouse tandem axle low boy
All tools, currently drilling
Price:  $225,000
---
1100HP (14000') CUSTOM BUILT TOP HEAD PULLDOWN DOUBLE MAST RIG (Ref#10105R)
480,000# holback, 80,000# pulldown, remote monitoring capabilities via internet, 12 trailer load (does not require crane to rig up or rig down)
4 man crew, self-reporting diagnositcs

Custom built, late model, 4G certified, built for purpose, small footprint, rapid mobilization- from arrival of first load at location to commencement of drilling is less than two days.
480,000# PULLBACK
1100 HP Rig Power: (2) 515hp Cat C15 engines
480,000# holdback capacity
80,000# pulldown capacity
35,000 ft/lb top drive rotary torque
65' x 40' drill footprint
Mast: 500,000# mast, 98' H x 8' W x 7' D
Substructure: 16' high hydraulic leveling, self-supporting (no guide wires) mechanical outriggers
(2) winches 17K; 6K
Laydown line
Topdrive Carriage:
480,000# holdback capacity
80,000# pulldown capacity
35,000 ft/lb top drive rotary torque
4" kelly line
Hydraulic bail extension/retraction
Mounted backup clamp and guide bell
Work platform for maintenance
Computer controlled lighting system
Control System:
Full computer based control system
Capability of accurately controlling bit weight, ROP, rotary speed, rotary torque, auxiliary functions
Fault Management
Touch screen interface
Remote monitoring capabilities via internet
Self-reporting diagnostics
Automatic mitigation of fault conditions with minimal loss of functionality
Full WITS Communication
Mud System:
(1) 600 kw generator sets
Pits (like new):
(1) 62' x 11'6" x 7 – 500 bbl mud shaker tank with (3) partitions
  (2) 5" x 6" centrifugal pumps p/b 75 hp electric motors
(1) 55' x 11'6" x 7 – 300 bbl mud suction tank with (3) partitions
    (2) 5" x 6" centrifugal pumps p/b 75 hp electric motors
     800 bbl mud system
Bop Stack:
Double ram: 13 5/8"
Annular: 13 5/8"
Accumulator: Koomey type 80 6-station, 210 gallon accumulator
Rotating Head: Washington 1500 psi
Choke Manifold 5,000 psi 4-1/16" x 2" and (2) 2-1/16" adjustable chokes
Gas Separator: 10" flanged flow line, 4" flare line
Accessories/Pipe Handling Equipment:
7,000# jib crane, winch boom, rotate
17,000# main winch
Racking board (racks 11,880' of 4-1/2" doubles, folds for transport
Quick Change Hydraulic Power Slips
Adjustable Height Tong Pulling System with Torque Limiting
Power Tongs: Varco SSW30 and 13-3/4" D & D Power tongs
Catwalk: 42' x 8' x 42" with walkway
4 kw rig lighting system

PRICE: $3,400,000 PRICE REDUCED: $1,399,000 Or Best Offer