FISHING /DINNER/ CRUISE BOATS FOR SALE
895 PASSENGER (16,000 TON) CRUISE SHIP  (Ref#1982)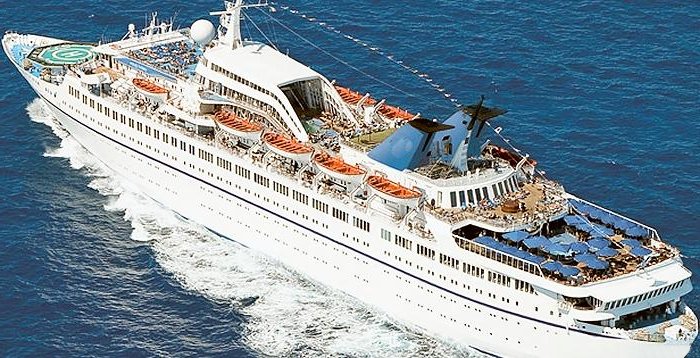 Built 1968, Renovated 2004 (at a cost of $10-$15 million), 524' x 74' x 21' draft, 15,781 GRT, 6916 NRT, 2543.6T deadweight, main engines (2) MAN 8V40/54 (17,378 total bhp), 355 passenger cabins, generators (5) Bergen RTGB8 525kw each, (1) Bergen RSGB8 725 kw., Deutz BF 6 M716 182.4 kw emergency generator, Klein, Schanzlin u. Becker PBO 2000 / 1000 hp bow thruster,   18 knots speed, 895 passengers, 337 crew, 364 cabins, A/C, 4 elevators, 7 passenger decks, 2 swimming pools, gym, sauna, spa, salon, hospital, restaurants, bars, located Europe  Price:  €12,500,000 (Euros)
---
1900 PASSENGER PADDLEWHEEL CRUISE BOAT (Ref#2763)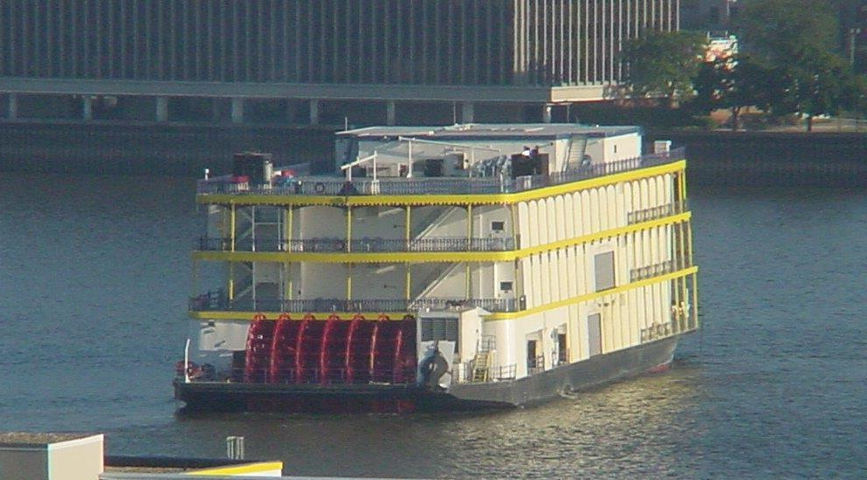 Built 1994. 295' x 78' x 14', draft 7', air draft 58'. GT 2606, NT 1882. Steel hull, 11 compartments, 10 transverse bulkheads. Main engines: (2) MTU 12V183 (1474HP total) hours: port 14,302, stbd 14,580. (2) Dennison hydraulic pumps powering a Thrustmaster Z-drive, powered by Mercedes 12V183 857HP. Bow thrustered powered by Detroit 8V92 312HP, Twin Disc MG5114 2.50:1. Tank Capacities: Fuel 28,150 gal, Waste 36,000 gal, Potable water 33,000 gal. Price: $950,000
---
132 PASSENGER 580 HP CRUISE BOAT (Ref#2789)
Built 2000, Twin Screw, 90' x 20' x 4', GT 88, NT 60. Main engines: (2) CAT 3208CA Diesel, 290HP each. Generator: John Deere 70kw. Bow thruster: Yanmar 3JH3E. Fresh water system Shurflow 12v Meyers 240v. Full galley. Capacities: fuel 1000 gal, water 425 gal. Navigation and communication equipment. USCG documentation. Located US Gulf. Price: 1,150,000
---
450 PASSENGER 156 x 25 x13 CRUISE BOAT (Ref#2623)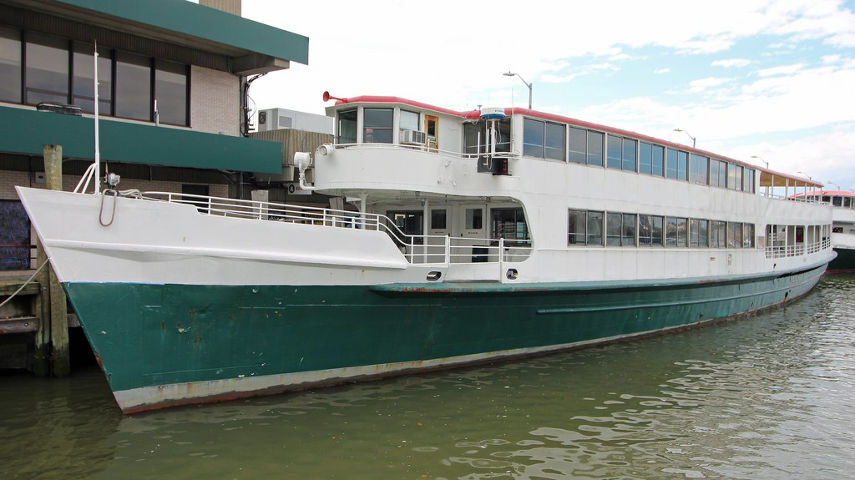 (2) Available, Built 1933, Repowered 2006. Current COI, Subchapter H. GT 290, NT197. Lightship weight 195 tons. Main engines: (2) Cummins QSK 19 (660HP each), Hours: Stbd 9105, Port 9200. Gensets: (2) Detroit 3-71 DC, (1) Detroit 3-71 A/C 30Kw. Ex-US Government. Located New York. Price: $325,000
---
325 PASSENGER CRUISE BOAT (Ref#2971)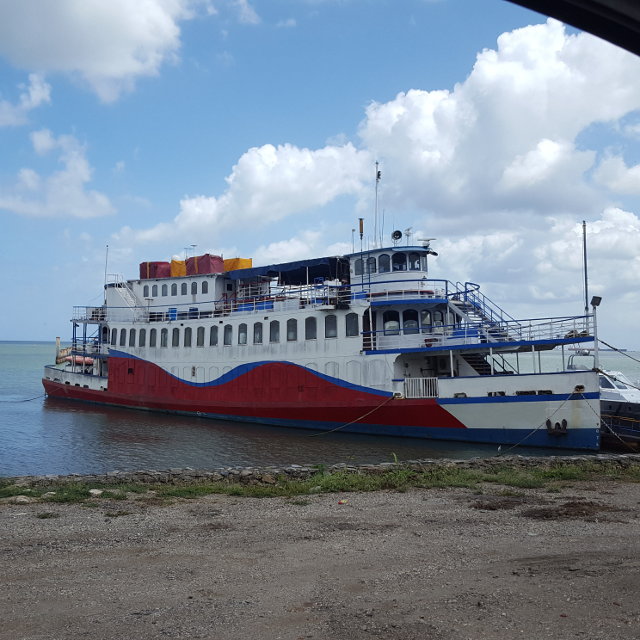 Built 1986, 148' x 36' x 9.6', draft 6.8'. Main engines: (2) Detroit Diesel 12V71, Bow thruster: Detroit diesel 6-71. Passenger capacity 325, Three decks with central air. Fuel capacity 5,250 gal, fresh water 3,500 gal. Fully equipped galley, seated dining for 150 with two beverage bars. Electronics, Navigation, communication, firefighting. Last drydocked July 2010. Located Caribbean. Price: $225,000
---
2200 HP CASINO CRUISE BOAT – 600 PASSENGERS  (Ref#1976)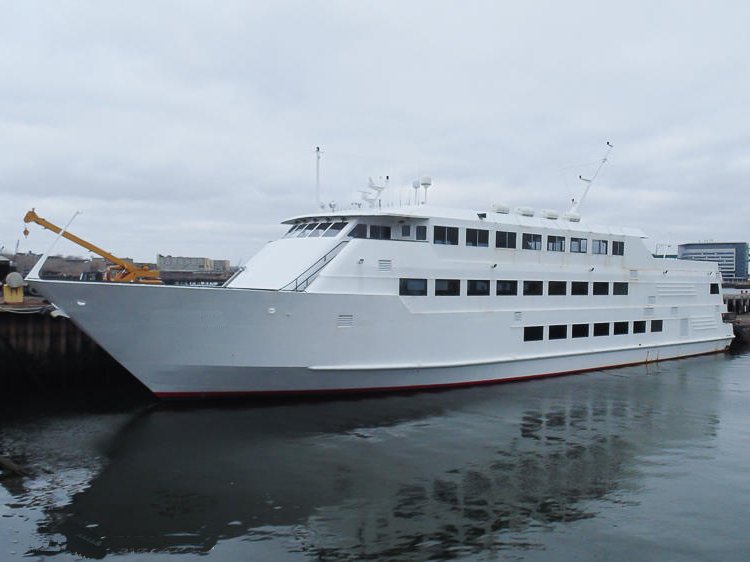 Built 2000 (purpose built wfor casino gaming), 161' x 39' x 10'8", 98 GRT, 66 NRT, limited to coastwise route, lakes, bays and sounds, within 20 miles of safe refuge. USCG drydocked Juen 2013, powered by (2) Cat 3508 diesel engines, keel cooled, air start, through ZF Model 2565 reverse reduction gears, 29,000 hours on engines, bow thruster, generators: (2) Cat 3406 372 kw and 320 kw, fire protection and life saving, full breadth galley with full service kitchen, 3500 gallon sewage tank, full breadth crew space/storage with (2) 3500 gallon potable water tanks, 6000 gallon fuel tank. Main deck is fully enclosed (except for small open line handling deck), configured as casine with men and women's heads, cashier age, banks of over 100 slot machines each with stool, (7) poker tables, (1) dice table, (1) routlette table, beverage service bar. Second deck has open forward deck, waitress station, men and women's heads, beverage bar, dinning area (152 persons), 70 slot machines. Third deck has pilothouse with port and starboard bridge wings, interior passenger space, service bar, seating for 72 persons. Communication and navigation equipment. Located Northeast USA. Price: $3,100,000
---
1142 HP PASSENGER / CRUISE BOAT  (Ref#1630)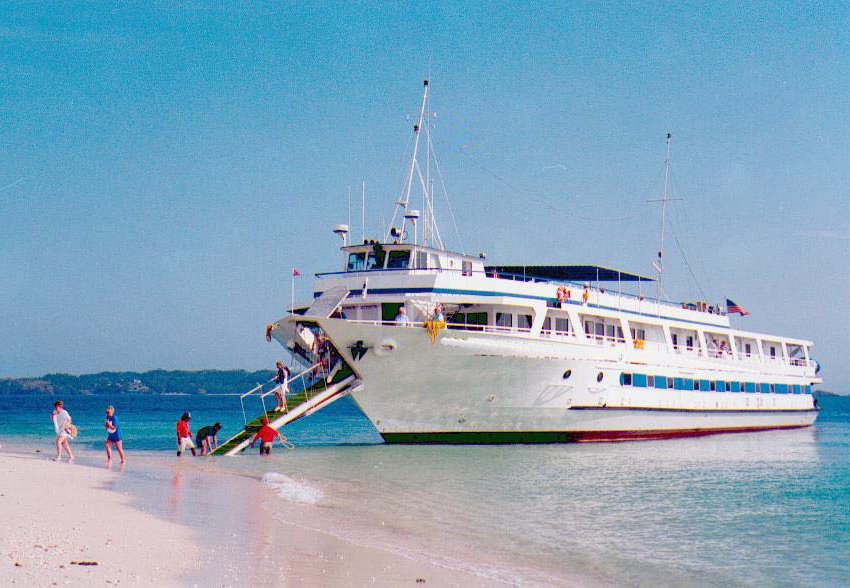 Built 1994, 177' LOA (137' LWL) x 40' x 6'3" draft, 9' depth, 99 GT, 67 NRT, 76 passenger capacity, 42 passenger cabins, crew accommodations (2) 6-person cabin, (1) 2-person cabin, (1) 1-person cabin, retractable pilothouse for passage under low bridges, extendable bow ramp, Vista view dining room and lund, canopied sun deck, tank capacities:  5266 gallons potable water, 7082 gallons F.O. wing tanks, 519 gallons F.O. day tank, 519 gallons lube oil, 519 gallons waste oil, 1400 gal raw/untreated sewage, 1400 gal treated sewage, 4860 gal gray water holding, (2) Man 571 hp engines, Cummins 150 hp bow thruster, generators: 165kw Cat 3306, 125 kw Man, 95 kw Cummins, 55kw Cummins, located NE USA  Price:  $4,000,000
---
1300 HP PARTY BOAT (Ref#2706)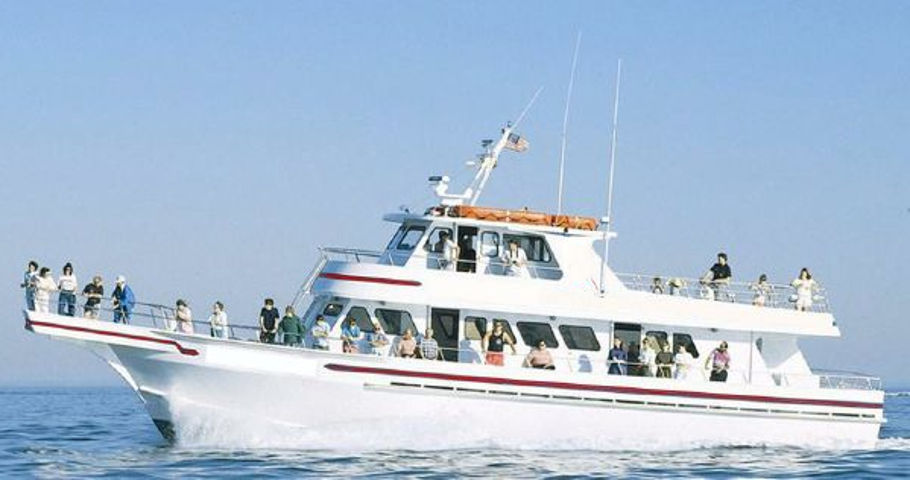 Built 1990, 75' x 21', min draft 5', max draft 5'6". Bridge clearence: 26'. headroom. Main engines: (2) John Deere 6135SFM (Built 2016), Cruising speed: 15 knots, max speed: 21 knots. Accomodations: Single berths 11, double berths 1, cabins 2, heads 2, seating capacity 130. Work done in 2017: new paint, new shafts, new seals. Located Northeast USA. Price: $575,000
---
180 PASSENGER TOUR BOAT (Ref#2705)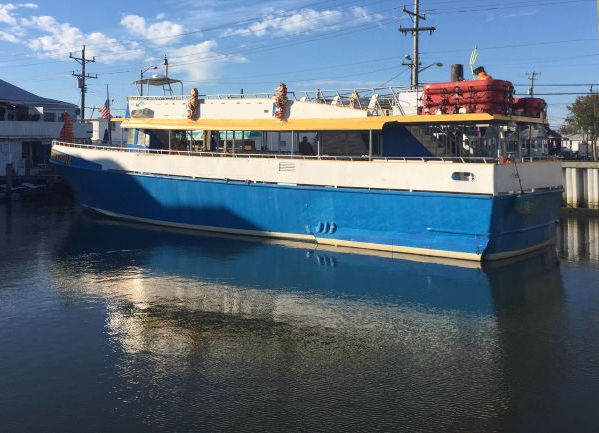 Built 1973, converted and renovated to tour boat in 2000. 85' x 20'. Aluminum hull. Main engines: (3) Detroit 12V71TI (1675 HP) Generators: (2) Cummins Onan 20kw. 180 Passengers. Located Northeast USA. Price: $675,000
---
250 PASSENGER FERRY (Ref#2730a)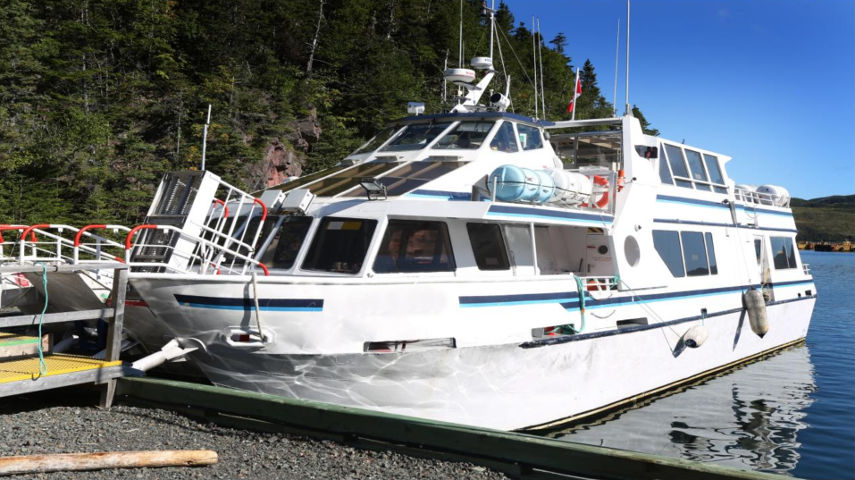 Built 1994, Rebuilt 2013. 72'10" x 24' x 10'4", 5'5" draft. GT 134, NT 105. Aluminum catamaran hull. 250 passengers, 7 crew, Main engines: (2) Perkins diesel, 527 HP total, speed 11.5 knots.  Extensive refit in 2013 including drydocking, vessel professionally maintained with no expenses spared.  Inspected by BV to Transport Canada Standards.  Located Canada. Price: $650,000
---
250 PASSENGER FERRY (Ref#2730b)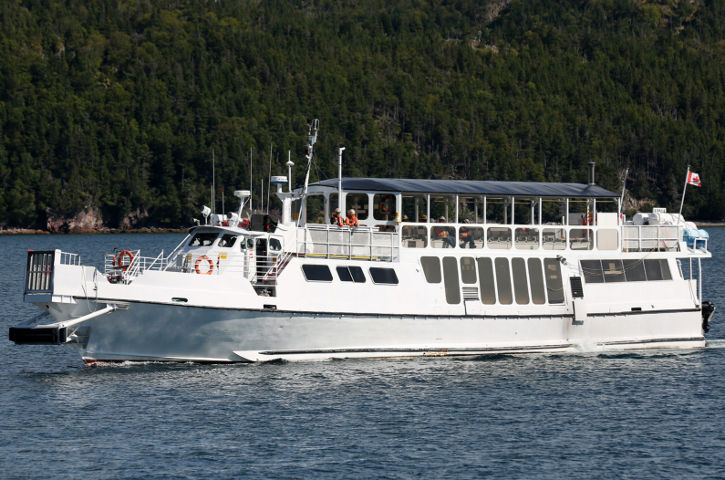 Built 1974, Rebuilt 2013. 91'11" x 21'5" x 8'5", 4'3" draft. GT 161, NT 78. Weight 68.8 tons. All welded aluminum monohull. Suitable for passage or excursion day trips, 250 passengers, 7 crew, Engines: (3) Detroit diesels 1,530 HP total, speed 14 knots. Extensive refit in 2013 including drydocking, vessel professionally maintained with no expenses spared.  Inspected by BV to Transport Canada Standards.  Located Canada. Price: $550,000
---
297 PASSENGER FERRY (Ref#2730c)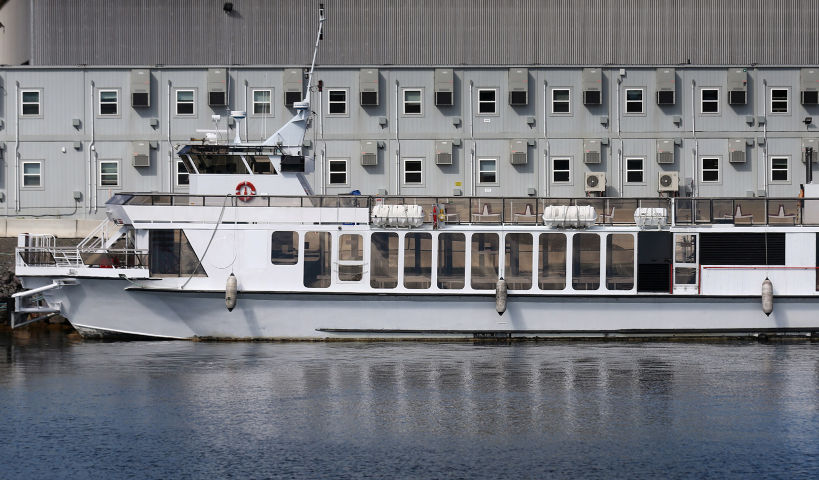 Built 1963, Rebuilt 2013. 94'6" x 23'7" x 9'6", 5'11" draft. GT 283, NT 187. All welded aluminum monohull.  Suitable for passage or excursion day trips, 297 passengers, 8 crew. Main engines: (2) Detroit diesel, 1880 HP total, speed 15 knots.  Extensive refit in 2013 including drydocking, vessel professionally maintained with no expenses spared. Inspected by BV to Transport Canada Standards.    Located Canada. Price: $450,000
---
80' x 70' STERNWHEELER (Ref#2875)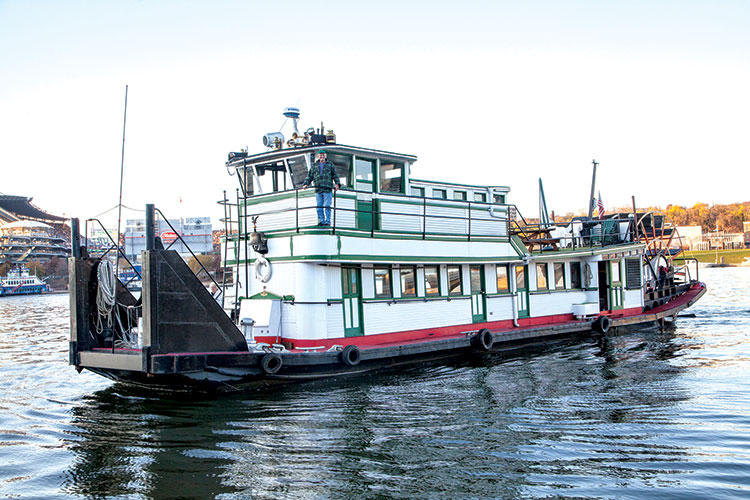 Built 1932, Steel hull. Reconditioned and re-hulled in 1962 to sternwheeler. Operated in Freshwater. Worked for US Steel until 1960. 15' x 9' wheel. Engine: 238 HP Detroit Diesel with 650 Allison Automatic transmission and 38,000 Rockwell differential. Self-contained, has a full bath, galley, and Texas bedroom. Operating in Pennsylvania. Price: $150,000
---
150 PASSENGER CRUISE BOAT (Ref#2707)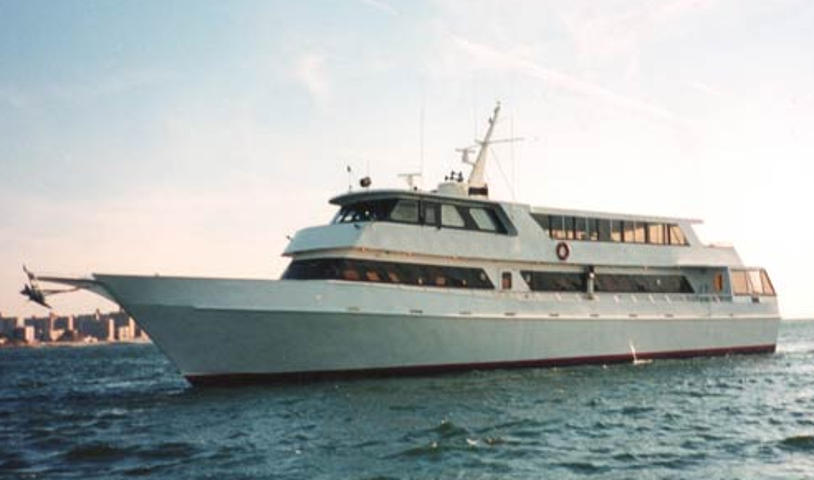 Built 1977, 120' x 27' x 8', draft 7'1" forward, 7'9" aft. GT 95, NT 64. Steel hull and deck, alluminum deck house. Main engines: (3) 12V71T Detroit with Twin Disc MG514 2.5:1. Generators: (2) Nothern Lights diesel AC gensets, 35 and 40kw. Full galley, walk in freezer. Located New York. Price: $690,000
---
150 PASSENGER PADDLEWHEEL BOAT (Ref#2753)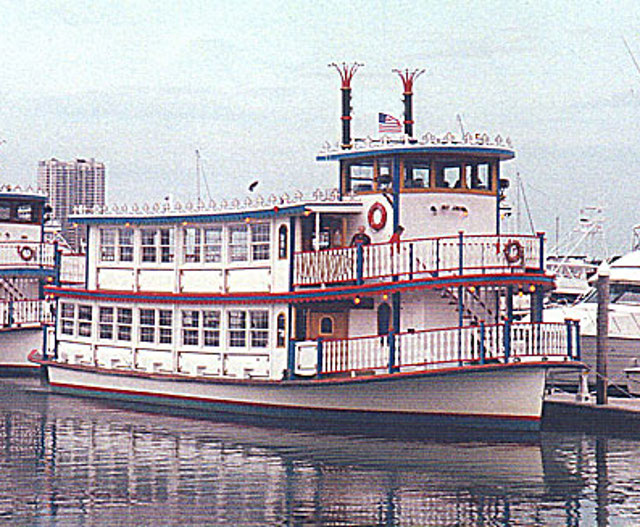 Built 1989. 78' x 28', 4' draft, overall height 26'2".. USCG inspected for 150 passengers + 10 crew. Stern paddle wheel. Main engines: (2) 671 GM Diesels (340 HP). Fuel consumption: At 8 knots/per hour 8½ to 10 gph, usual cruise speed 2 knots/per hour, burns 6 gph. Generators: (2)371 GM diesels 50 KW phase 3, Y series. Capacity: 800 gal, fresh water 600 gal, sewage 200gal. Both decks heat / AC. Full electronics, GPS, Radar, (2) VHS, meets all USCG approved navigation. (1) main engine and both generators hauled 2016, approximately 200 hours. Other main engine hauled 4 years ago, approximately 1000 hours. Last drydock 2015, next drydock 10/2017. In ready-to-go condition. Located Northeast USA. Price: $475,000
---
80' DINNER YACHT (Ref#822)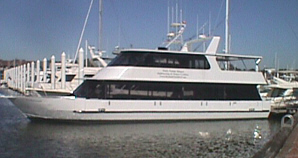 Year built: 1987, 80' x 18' x 4', GT 39/Net 34, 149 passengers, Main engines: (2) Cummins 6BT (430 total HP) USCG inspected vessel. Electronic controls, bow thruster, new 1/4 plate steel bottom in 2009. Price: $325,000
---
90 PASSENGER 74' FERRY  (Ref#2732)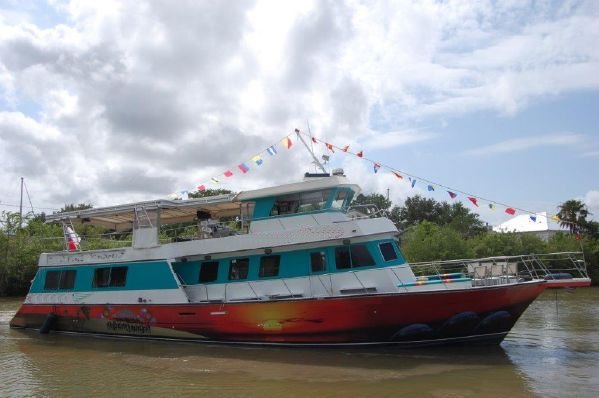 Built 1995, 65' LOA x 20' beam x 4'3" max draft, 1160 hp, (2) Detroit 1271 diesel engines, 1100 gallon fuel tanks, fiberglass hull, 29 kw Sea Hawk generator, battery charger, 5 marine air conditioning units, refrigerator, microwave oven, deep freezer, bow thruster (new 2016).  Main deck has open bow with walk around deck to starboard forward side doors to a formal dining room, galley with service bar, 2 heads, small open aft cockpit.  Upper deck has full service bar, 21 apssenger capacity, dance floor or outdoor seating.  Pilot house raised, fully enclosed.  B3elow decks space is dividing into five water tight comparts (engine and machinery spaces).  Well maintained.  Price:  $525,000
---
985 HP RESEARCH / SUPPLY VESSEL (Ref#2957)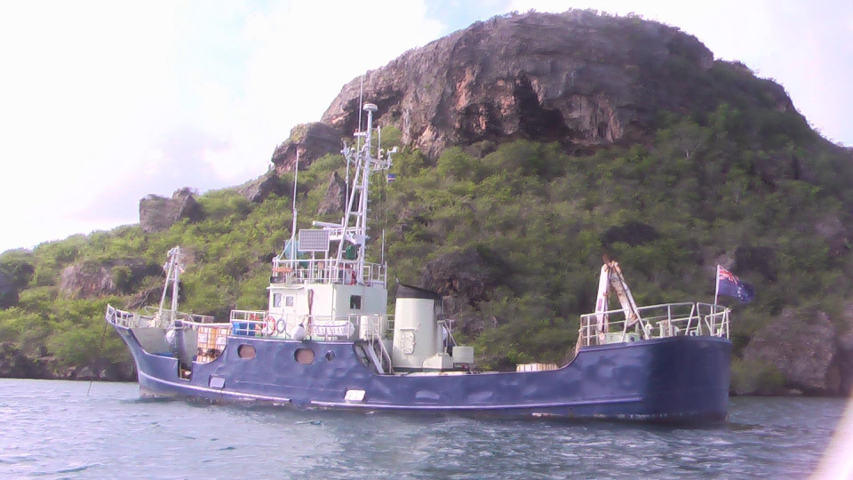 Converted from Japanese fishing boat. 98' x 16.4', 7.1. Main engine: T220-ET Yanmar. YC2-851 2-speed gear box. Service speed 12 knots. Generators: X2 6CHL-N w/ Shinko. Fresh water: 1080gal, lube oil: 192gal, fuel oil: 4000gal. Located Alabama. Price: $225,000
---
CRUISE BOAT / EXPEDITION VESSEL (Ref#2956)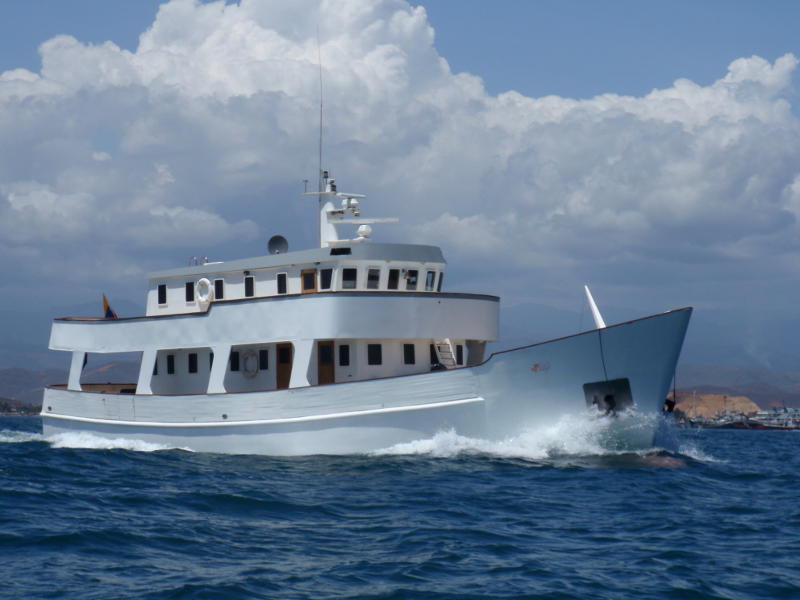 Built 1973, Refitted 2005 – 2013. 84.5' x 20.4' x 9' draft. Heavily constructed, converted from Ocean Going Steel Trawler. All new aluminum super-structure. SS Stanchions and Bulwarks. New decks. Complete electronics and controls. 100% beefed-up retrofit. Main engine: Baudouin B12P15 430 HP driving 15:1 Baudouin main gear, 4 blade propeller. Engine has less than 1000 hours on 100% overhaul. 3 generators, Perkins 4.2/40kva, Kubota 19kw. Tankage 70,000 liters fuel, range 2400 nautical miles at 8.5knots. 6,000 liter freshwater, 4,000 liter blackwater, 500 liter fuel oil, 200 liter slop tank. Salon area for 8, galley. Located Caribbean. Price: $825,000
---
75 PASSENGER 75' BOAT  (Ref#2731)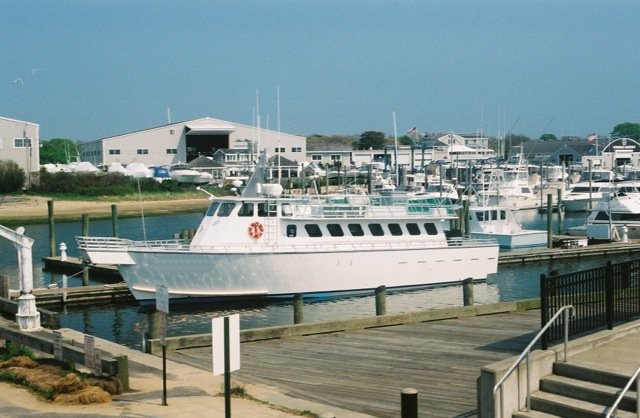 Built 2003, (3) Detroit 60 Series engines, Hamilton water jets, (2) 22kw generators, double electronics in wheel house, 20 knots cuise, 26 knots top speed  Price:  $550,000
---
66' PARTY BOAT (Ref#2757)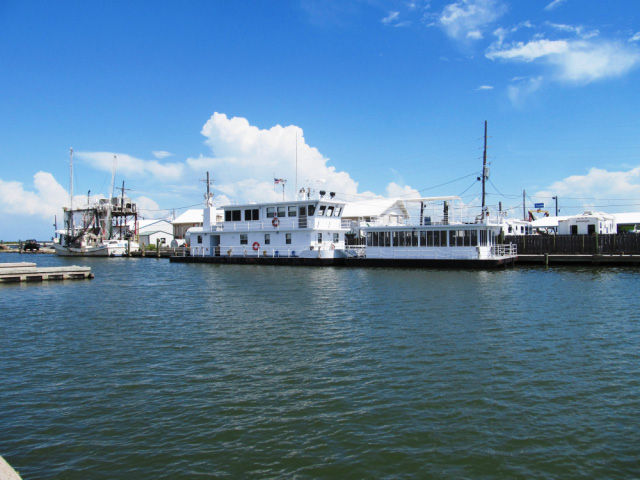 Built 1982, Last drydock 2012. 66' x 24' x 5', height of eye 18', Spuds (2) 20', (1) 15'. Main engines: (2) Detroit diesel 471 (total 272 HP), Reduction gears: (2) Twin Disc MG509 2:48:1. Generators: (2) 30kw Delco w/ Detroit 371. Air compressors: (2) 2-stage quincy w/ (2) 83 HP electric motors. Accomodations: Bedrooms 3, Baths 2, Laundry room, galley, crane. Located US Gulf. Price: $375,000
---
172 PASSENGERS 2840HP CRUISE BOAT (Ref#2661)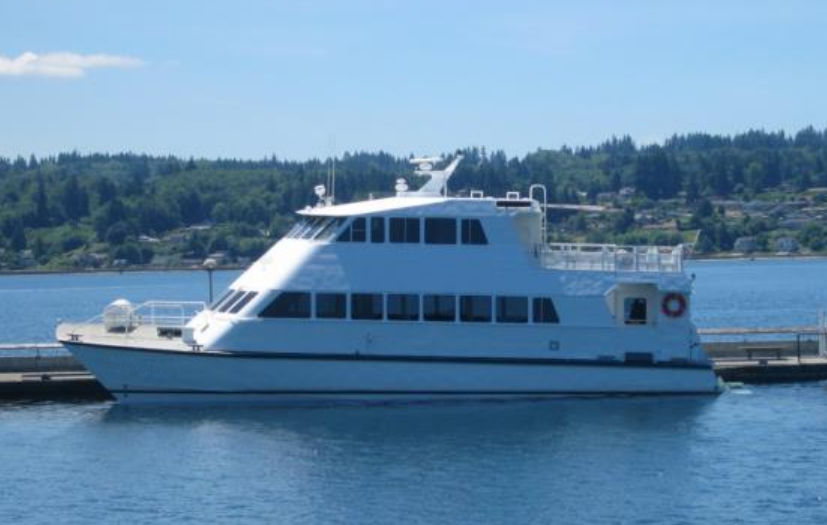 Built 1988, Aluminum hull catamaran. 78' x 31', 172 passengers. GT 60, NT 39. COI + Survey, Main engines: (2) CAT C-32 Tier 1 (1400HP each) installed 2005 in frame overhaul in 2012, 4500 hours since rebuild. Cruising speed 27 knots. Gears: ZF250 2.03:1, both reconditioned, spare available. Generators: (2) Northern Lights 55kw. Located Alaska. Price: $2,000,000
---
Cruise Boat (Ref#2652)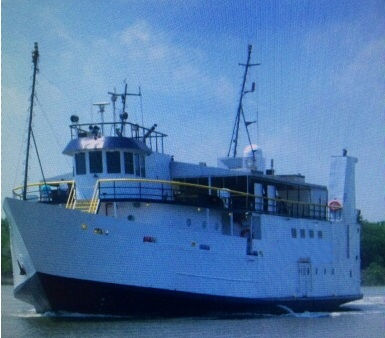 Built 1985, 184' x 40', GT 99, NT 67, Speed 10 knots. 7500 gal fuel tank. Main engines: (2) 3812 CAT diesel. Generators: (3) 3408 CAT. (3) Bars and Galley. Ship has set for 8 months. Requires $327,000 work done. Price: $325,000
---
800 HP DINNER / CRUISE BOAT  (Ref#1628)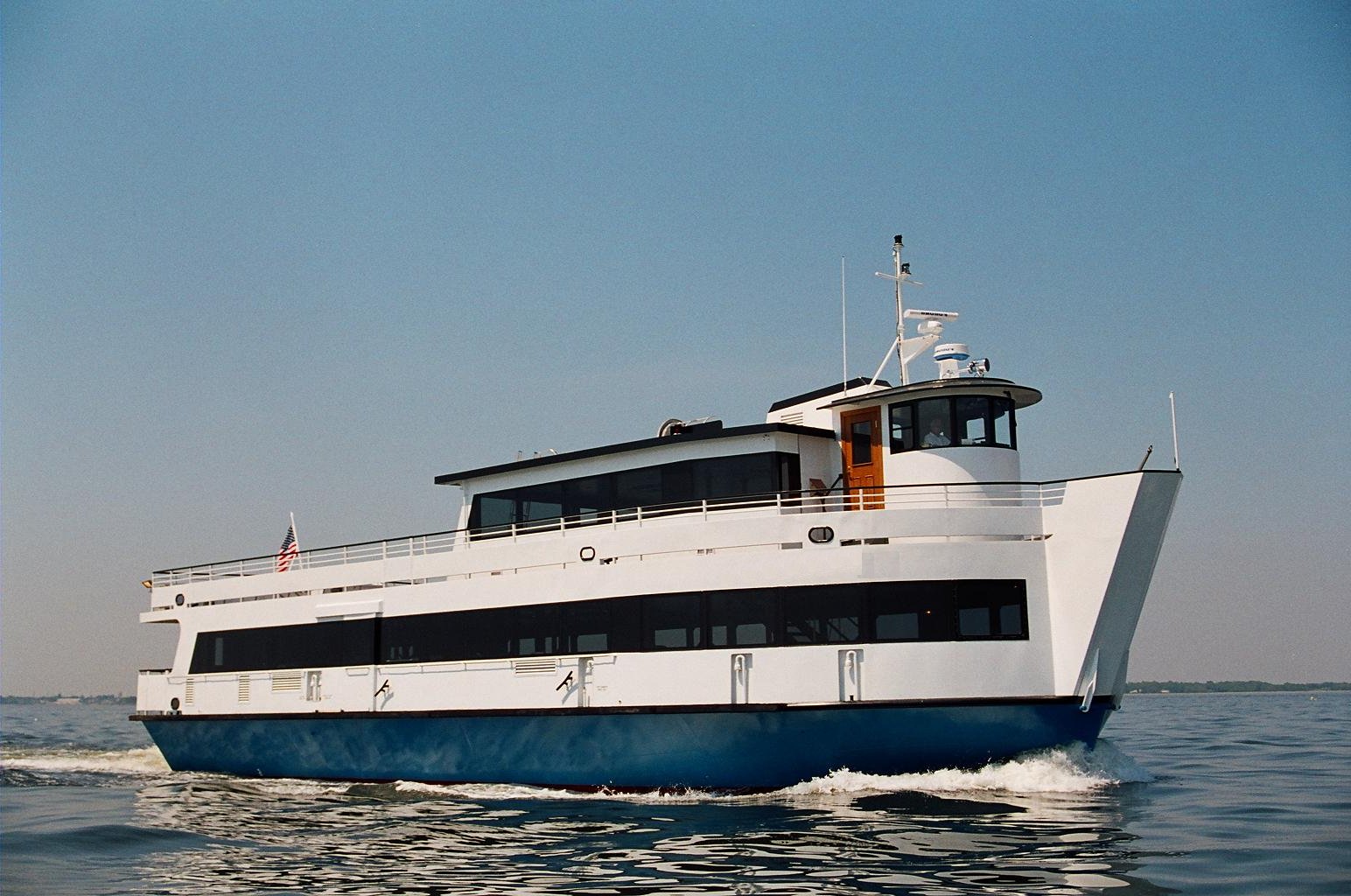 Built 2005, 2 decked – steel hulled, 150 passenger, 80' x 30' x 5', 91 GT, 61 NT, ABS loadline, capacities: 900 gal fresh water, 525 gal grey water, 525 gal black water, 175 gal lube oil, 1200 gal fuel, main engines (2) 400 hp Man engines, (2) twin disc #518 Marine gears 3:1 reduction, (2) 96 kw Northern lights generator, speed 10 knots, 15 knots top speed, full galley, fire protection and life saving, navigation and electronics equipment, located Northeast USA Price: $1,275,000
---
111' PADDLEWHEEL BOAT (Ref#1674)  Paddle hydraulically operated, built 1987, 111' x 28', COI, 170 passengers, located Northeast  Price:  $650,000
---
2800HP CRUISE SHIP (Ref#909)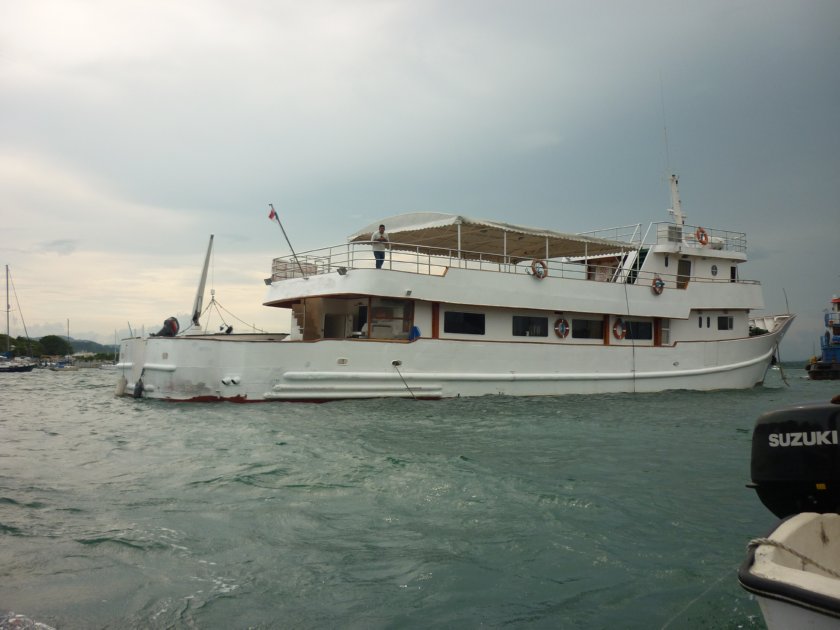 33m x 8m x 3m, 262 GT/210 NET, steel construction, Detroit diesel engines 2800HP 16V92TA, 3 geenrators, 7 large bedrooms, 5 bathrooms, full bar equipped,  luxury kitchen, dining room, large living room, central air conditioner, audio and video equipment,5000 gallon fuel capacity, 15,000 water gallon capacity, Price: $750,000
---
100 PASSENGER CRUISE SHIP (Ref#2670)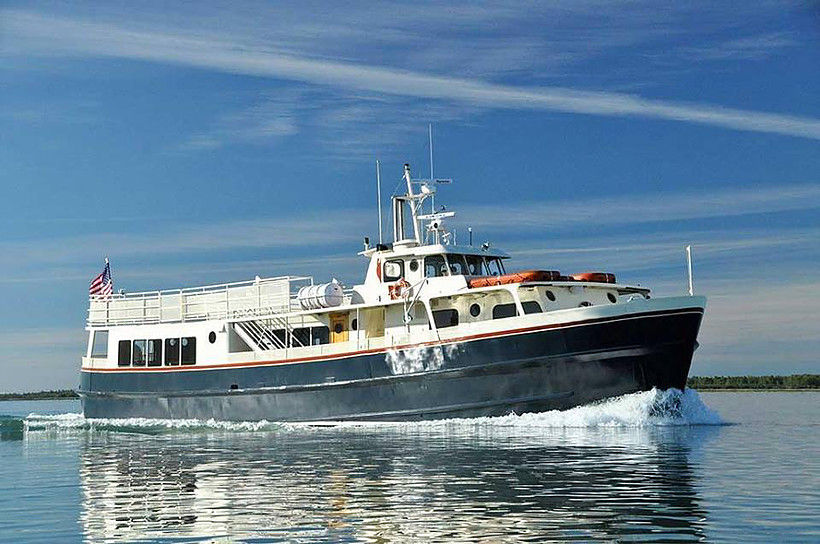 74' x 18.4' x 6.5', GT 88, NT 60, Steel hull, USCG Inspected. Main engines: (2) CAT 3306 Turbo, Generators: (2) Kohler 16Kw, 9Kw. Located Michigan. Price: $350,000
---
DINNER / CRUISE / FISHING YACHT  (Ref#871)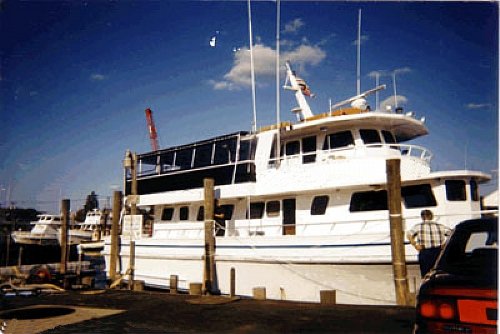 Built 1971, 59' x 21', 72' overall length, 7.3' depth, 4' draft, 72 gross tons, wood hull, built by Harkers Island, main engines: (2) Detroit 8V71N (350 hp) each, total 700 hp, reduction gear (Allison) 2.5:1 ratio, shaft 2" S/S, fuel capacity 800 US gallons, (2) tanks, USCG inspected 160 persons (Coastwise routes), generators: Delco 20 kw, Crown Raritan 32VDC, guest 12VDC, Ritchie compass, Garmin GPS Map 4210, (1) Icom VHF(s), radar: Furuno 1600, color video Furuno FCV 667, cybernet CRX-1000, all fire and safety equipment included, Built in Sound System – DJ Friendly.
Main level deck was redone with marine grade plywood, 3 layers fiberglass and gel coated.
Excellent condition (pristine), maintained above and beyond standards, must see to appreciate, Awlgrip throughout. Located Northeast US. 

PRICE REDUCED FOR QUICK SALE: $175,000
---
149 PASSENGER CRUISE BOAT (Ref#1994)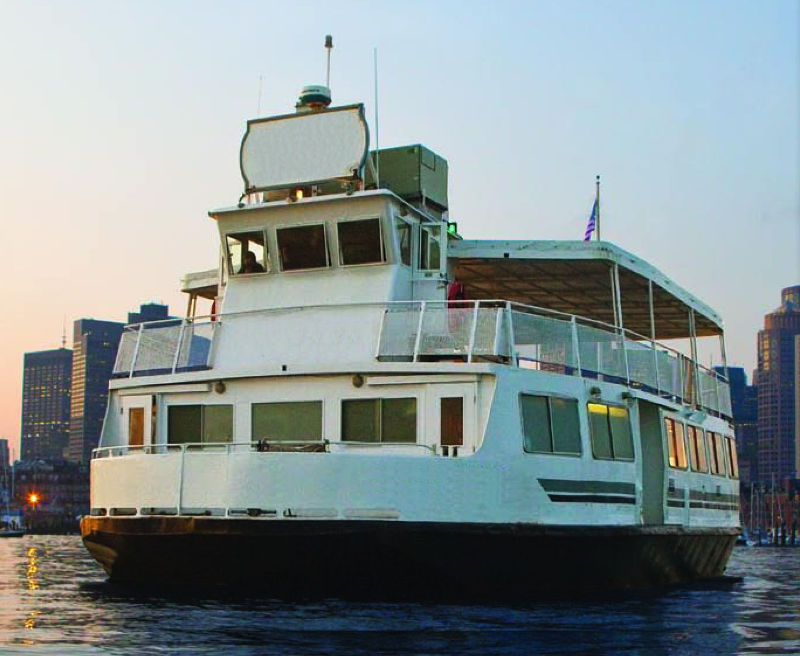 Built 1949 as Car Ferry. Has current COI. 70' x 37' x 6', 5' draft, Recertified in 2000 as a 149 passenger cruise. Steel hull, 97 GT, 80 dead weight tons, Main engine: 12V71 Naturally Aspirated. Generator: CAT 3304, Speed: 8 knots, (2) VHF, (1) Radar, Steering: Manual rod and gear. Kolbolt mechanical controls. Capacities: Fuel: 1000 gal, Water: 250 gal, Waste: 180 gal. 2 Decks, 1 Bar, 2 Dance areas, 2 Restrooms. Located Northeast. Price: $275,000
---
96' DINNER YACHT (Ref#820)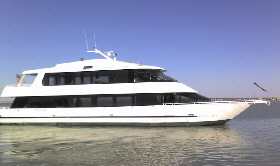 Year built: 2005, 96' x 20' x 4', 144 passenger, bridge clearance 32'. GT 73/Net 49, 350hp, Engine type: Twin diesel turbo, inboard as Main Propulsion, Bruce anchors, 75lbs anchors, 2 fire exits, equipped with all standard amenities, 6 tables (in storage), 28 chairs (in storage), 78 chairs (lower deck), 17 tables (lower deck. USCG inspected vessel with a bridal changing room and private head on the upper deck. Full galley. Located in US Gulf Price: $1,500,000 PRICE REDCED: $1,150,000
---
1000 HP STERN TRAWLER FISHING BOAT  (Ref#1941) 
Built 1988, 102' x 26', 378 GRT, Class IRS
Navigation and fish finding equipment:
Factory deck:  stocker pond, fish washing machine, fish heading machine
Insulated and refrigerated fish hold, bulkheads fitted with cargo battens
Buhrmeister & Wain 6-cylinder Turbocharged and aftercooled diesel engine746kw @ 500 rpm (1000 hp), Liaan reduction gearbox, (2) Guascor 8 cylinder diesel auxiliary engines 240kw each, (2) 3-stage air compressors, oil separator, bench grinder, welding machine, washing machine.  Located South Africa  Price:  $1,100,000
---
1125 HP TRAWLER (Ref#1932)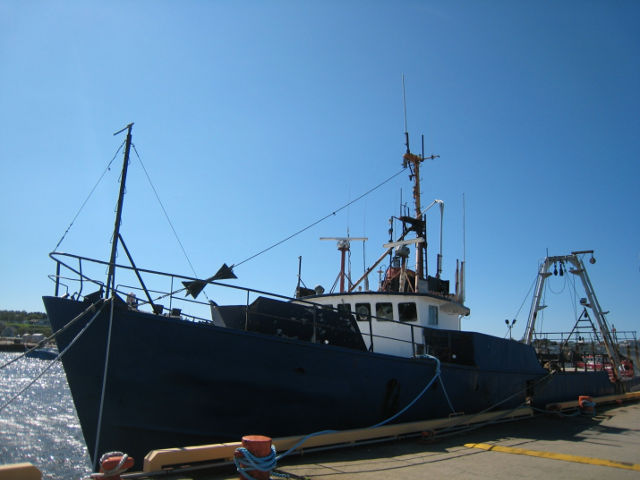 Built 1971, Registered Ice Class II 1984, Steel Stern, ½" hull, ¾" bottom, CAT D399TA diesel (1125 HP), Kort nozzle, 21,000 hours since new 1,200 hours since major overhaul and crankshaft removed. Speed 12 knots, CAT D343 gen set, Dry docked 2009, hull and bottom painted, Sleeps 16 crew, 1200 gal water capacity, 14000 gal fuel capacity, Fish hold: 30'x26'x11' - 196 tons. Fish processing room 28'x26'x9', All aluminum covered cement bottom steel shaft cover and 30' hyd conveyor. Clear deck: 74'x28'. Hot water heating tank. Fishing winches and hardware have been removed, can be placed back on the boat for approximately $20,000. Located Eastern Canada. Price: $250,000
---
65' CATAMARAN CRUISE FISHING BOAT (Ref#2529) Custom built. Marine plywood and epoxy construction. 65' x 28' x 42", COI for 142 passengers. Speed 21 knots. No engines. 2:1 marine gears. 2" shafts. 18kW gen set. Marine stove, Interior galley. Located Florida. Price: $80,000 or $170,000 with (2) good running Detroit 12V71 diesels
---
PADDLEWHEELER  (Ref#816)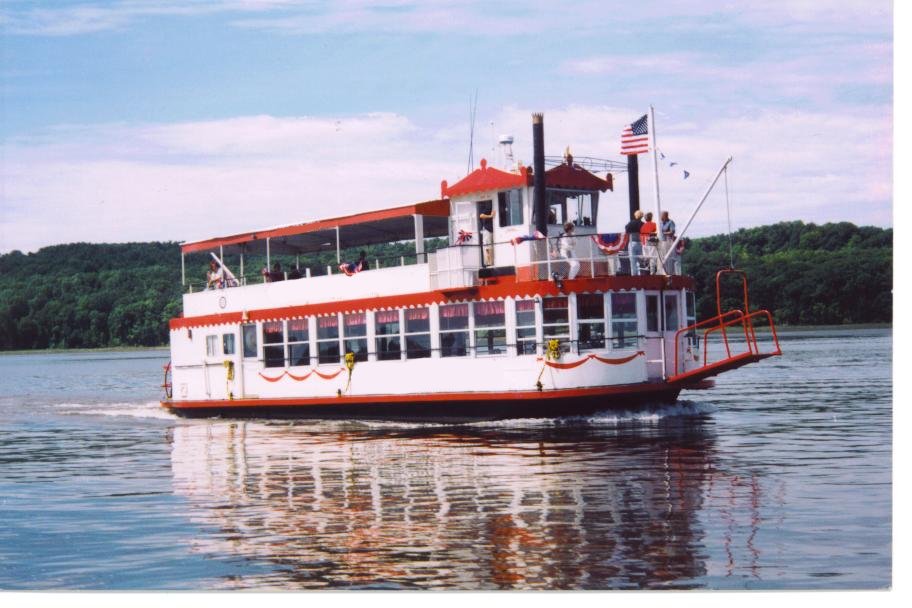 Built 1970, 75' x 19', steel double decks with hot air heat, 49 passenger, 12.5 kw gen set, (2) Detroit 371 diesel engines (170 hp), (2) VHF's, radar/chart plotter, depth finder, rudder indicator, PA system, full bar, ice machine, great condition, Northeast USA  Price:  $250,000
---
280 HP CRUISE BOAT (Ref#2557)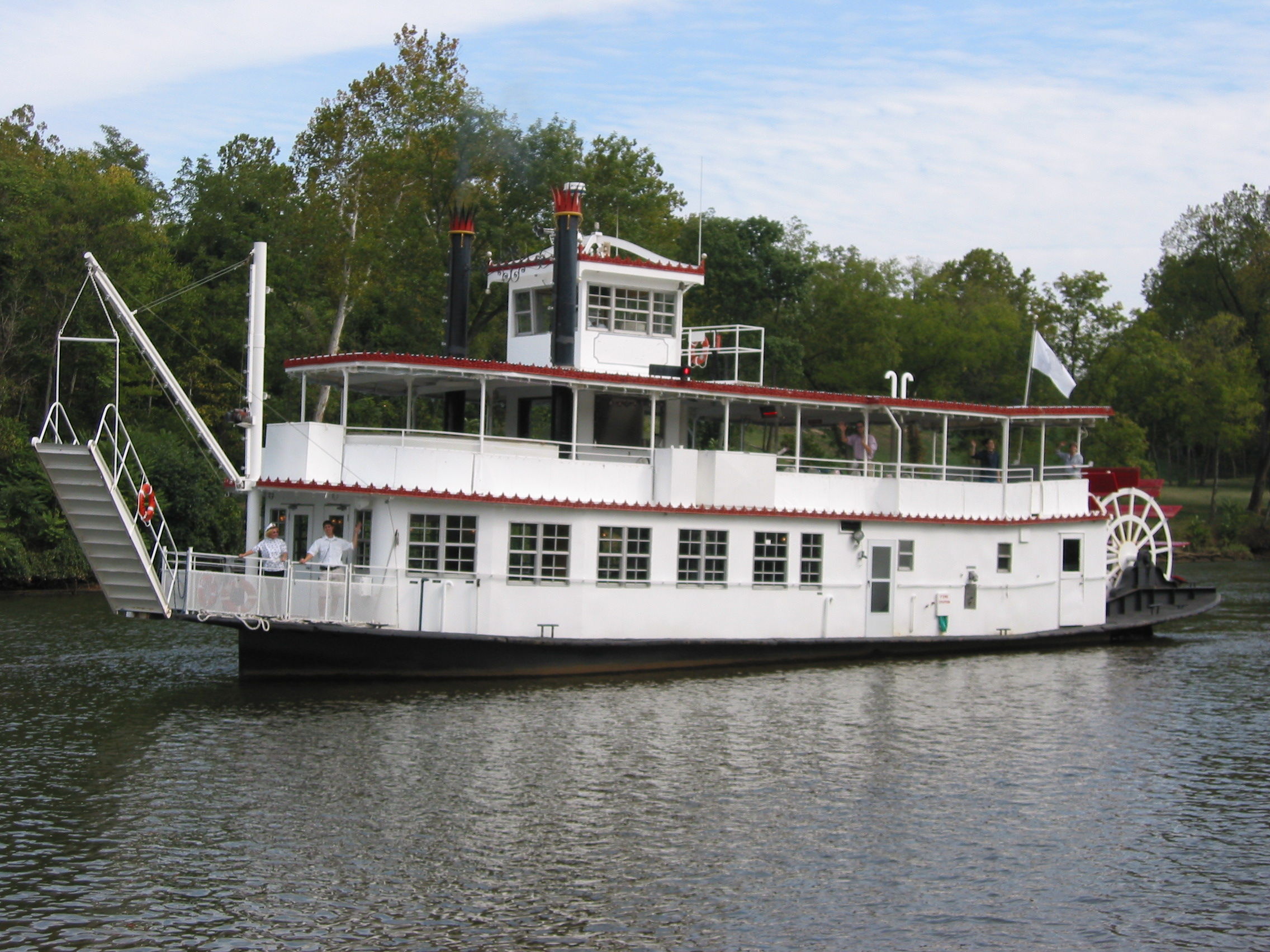 Built 1984, US Coast Guard inspected, recently hauled out of water. Runs every day in Mid-South and Florida. 60' x 24' x 4', main engines: (2) 453 Detroit diesels (140HP each). Generator: 453 Detroit diesel turbo. Mach paddlewheel. 2-screw drive. 130 passenger, full galley and bar. 2nd deck dance floor, band area. Water treatment system, no need to pump grey water. (2) 2-stall bathrooms.
Price: $355,000 - on long term charter
---
CRUISE SHIP  (Ref#441)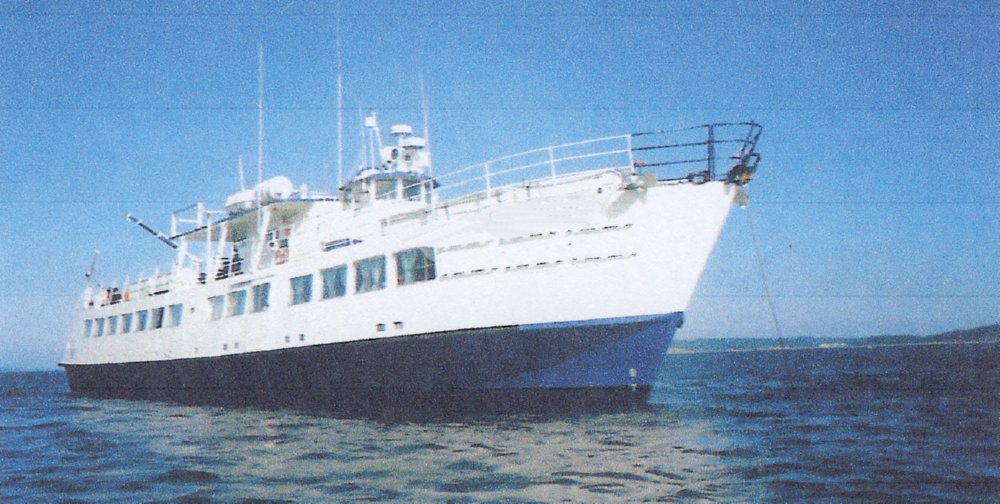 112' x 22' x 6', 98 GRT, twin 12V71 main engines (950 hp), speed 10 knots, accommodations for 50, 16 cabins, each with head and shower, (2) 471 gen sets, ice protected props, large galley, large lounge, could be good support vessel for Gulf work or used in Alaska as research vessel, available for inspection in Washington  Price:  $875,000
---
THREE MASTED SCHOONER  (Ref#803)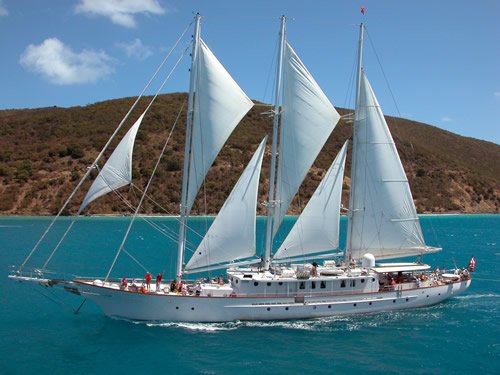 160' x 24' x 12', 20 individual cabins with private bath, climate control, satellite TV, porthole with ocean view in each cabin, salon and bar w/flat screen TV, full deck with hot water spa, large inflatable launch  Price:  $4,975,000
---
SKIPPER DINNER BOAT  (Ref#332) 
90' x 21', Twin 3208 Cat engines, certified for 156 passengers, full electronics, turnkey, Northeast US  Price:  $645,000 OFF MARKET
---
PARTY/CRUISE BOAT  (Ref#333)  110' x 28', powered by (3) Deutz 1015 (1800 hp), fast boat, USCG certified for 150 passengers, Northeast US  Price:  $785,000 OFF MARKET
VESSELS WANTED
Let us know if you have any vessels, barges, dredges or related equipment for sale.
Keep us in your files for any equipment that may become available in the future.