CORE DRILLS FOR SALE
LONGYEAR 44  (Ref#9276R)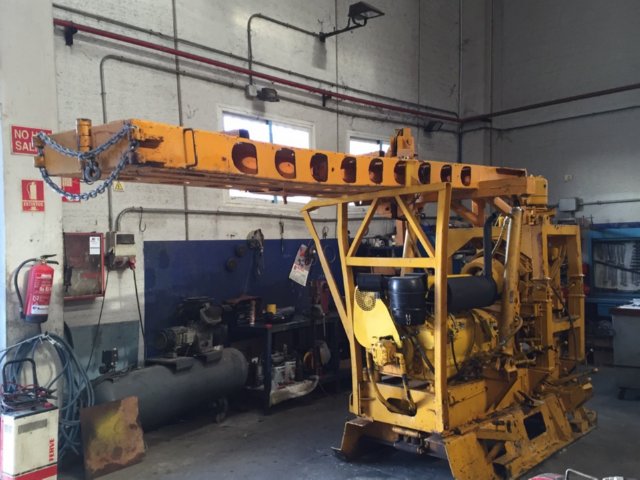 Manufactured 1983, Deutz Ditter 83CV engine, 24" stroke, 360 degree angle drilling, wireline winch, skid mounted, located Europe  Price:  $105,000
---
LONGYEAR 38 (Ref#2529Ra)
Skid mounted, 4 cyl Perkins engine, Bean 50 pump, tower will pull 20' overhead, HQ and NQ jaws, refurbished 2013 with new bearings, seals and hydraulic hoses.  Rig only, no rods or barrels  Price:  $85,000 PRICE REDUCED: $60,000

Available at extra cost: 
(Ref#2529Rb) 35 gpm FMC pump Duetz 2 cylinder, transmission and rebuilt motor:  $19,000
(Ref#2429Rc) 20 gpm FMC pump w/ Hatz motor:  $9,500
---
LONGYEAR 34 CORE RIG PACKAGE (Ref#5313Na)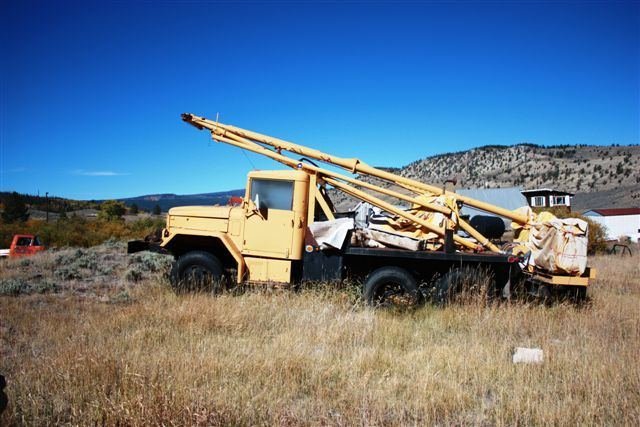 Manufactured 1976, depth capacity: has drilled to 2000' can go deeper), excellent condition, not used in years, mounted on tandem axle 6 wheel drive Military truck with gasoline engine, wireline, 3 pole hydraulically raised mast assembly, can pull 20' pipe, slide base, rotating head 360 degree, 180 degree angle drilling capability, Ford 300 diesel engine on deck, LL Bean mud pump and mud mixer, tools, 2000' of BQ (2.19") x 20' drill rod, drill bits, (2) core barrels, slips, foot clamp. Has drilled 10 holes to 1,000'
Price: $95,000
PRICE REDUCED: $80,000
---
LONGYEAR LF70 CORE RIG  (Ref#7505R)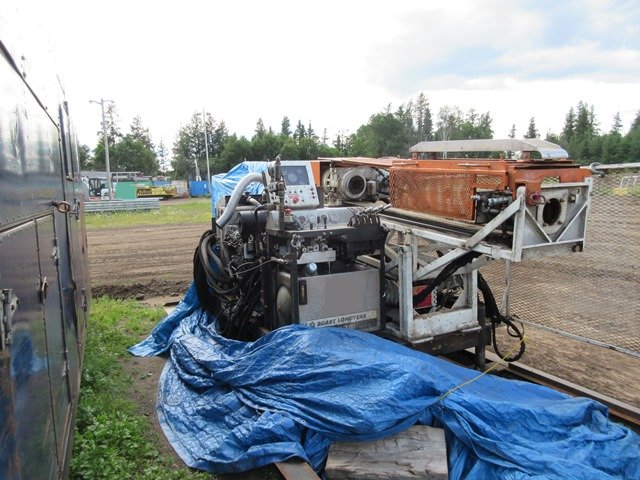 Manufactured 2008, approx. HQ head assembly with nitro chuck, Cummins 4BTA 3.9 engine, water cooled kit, water circulation manifold, rated for 2700' NQ, 3400 lb ft torque (1st gear), pull capacity 14,137 lb/ft, thrust capacity 9326 lb/ft, 6m rod pull, 45 to 90 degree drilling angle, mainline hoist, 12,000 lb (bare drum), wireline hoise 2190 lb (bare drum) 6200' capacity, 435 Bean pump, water tank, last drilled May 2014  Price:  $140,000 PRICE REDUCED: $124,500
---
LONGYEAR HC-150 CORE RIG  (Ref#48N)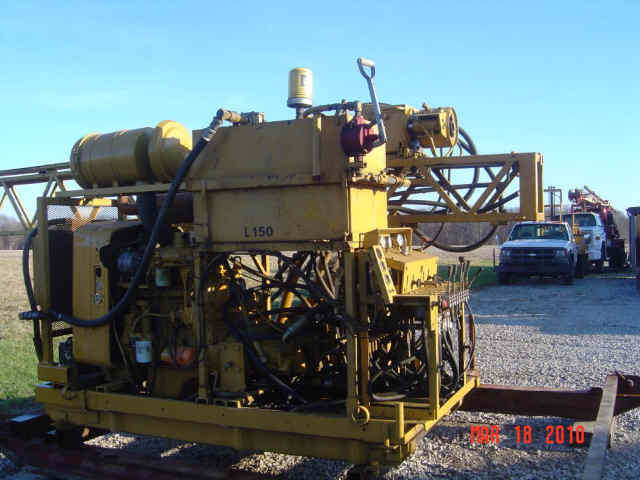 Manufactured 1980, Capacity: 1500 – 2000' NQ, 1000 – 1500 HQ
High Speed, hydrostatic head, HQ hydraulic chuck, 353 Detroit diesel engine, danfoss control and valve bank, 55 gal fuel tank, 20' pull tower (foldaway), angle drill capability, deep hole core drill, skid mounted, 25' angle mast, 2 winches, ready to work 
Price:  $75,000  PRICE REDUCED:  $45,000
---
BOART LONGYEAR DELTA BASE DB430  (Ref#9483R)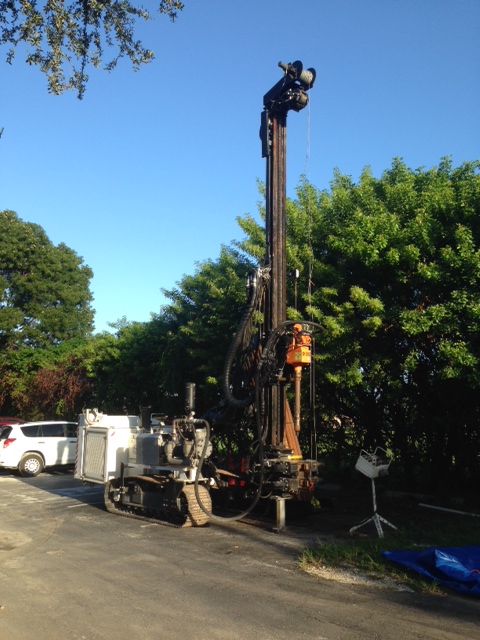 Track mounted, diesel engine, manufactured 2008, 540 upgrade drill head, Centerline 7 x 10 Monoplex mud pump, 220 hours, wireline winch, Pullmaster winch, hyd rod rack, 400' of 2-3/8" API drill rod, dual rod clamps, breakout wrench  Price:  $285,000  PRICE REDUCED:  $210,000
---
VERSADRILL KMB.4 UNDERGROUND DIAMOND CORE DRILL  (Ref#1281R)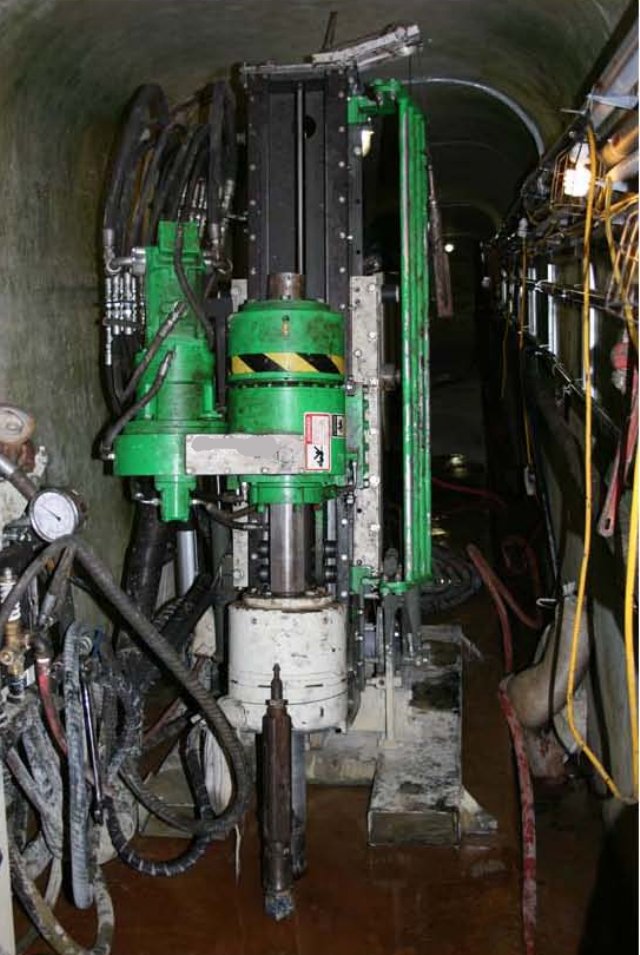 Manufactured 2011, short feed frame possible angle 90 degrees, 0-1500 rpm, spindle ID diameter 4.9" PQ, spring close and hydraulic open chuck, drilled 2850 LF of HQ since new, 5'5" stroke, hydraulic pump and tank.
Drilling capacity: 
1-3/4   @ 1550'
2-3/16 @ 1300'
2-3/4   @ 655'
3-1/2   @ 180'
9,000# pull capacity, 9,000# push capacity, 2 speed transmission, 1500' x 3/16" wireline hoist
70 hp electric motor, no diesel motor
Price:  $205,000  PRICE REDUCED:  $190,000
---
ATLAS COPCO CS-10 DIAMOND CORE DRILL  (Ref#14154T)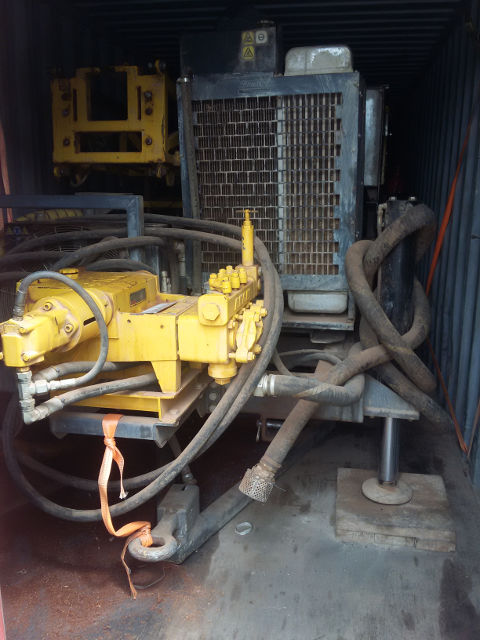 Manufactured 2013, Cat C3054E water cooled engine, 6' feed travel, 20,200# pull, 1830m wireline capacity of 3/16", 975m wireline capacity of ¼", 1030m (3380') depth with B wireline, 800m (2,625') depth with N wireline.  Requires minor repairs totaling $16,000 USD to bring it back to top condition and field ready.  Inspection report available upon request.  Located Eastern Africa 

Price:  $190,000 USD  PRICE REDUCED TO $125,000 USD FOR QUICK SALE
---
DANDO MULTITEC 9000  (Ref#15055R)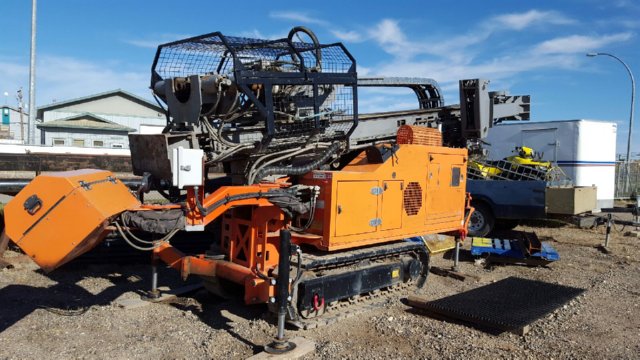 Manufactured 2013, only 550 hourws (as of Sept 30, 2015), 20,000# weight, mounted on crawler base, 18' height, 11.5' travel, 20,000# hoist force, 13,000# feed force, double clamps 60m – 250mm diameter, FMC LO618 triplex piston pump (36 gpm/700 psi) for coring, oiler for DTH, 4 leveling jacks, cyclone reverse circulation, comes with 500m of 3" standard lightweight pipe (300m brand new), located Canada 
Price:  USD$285,000 PRICE REDUCED: $255,000 USD (option of down payment and assumption of lease).
---
ATLAS COPCO CHRISTIANSEN CT14 DRILL (Ref#3268Ra)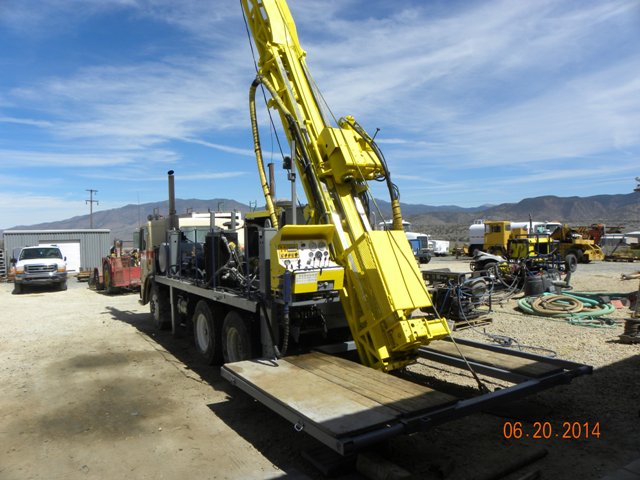 Truck mounted, 17,000 hours on drill, truck is cab over with automatic transmission and browning box with triple deep gearing (for steep mountain climbing), shack is removable and made of steel tubing.  Price for rig only:  $180,000
Also available with drill:
1500 gallon mud mixing system with Honda 3" trash pump (tows behind a pickup)
Genie TML 4000 light tower (tows behind a pickup)
1990 Ford F700 rod truck with gas engine
International 4000 box truck with diesel engine with shelving (used as parts van)
Package Price:  $220,000
---
CHRISTENSEN (ATLAS COPCO) CS1500 CORE DRILL (REF#9102)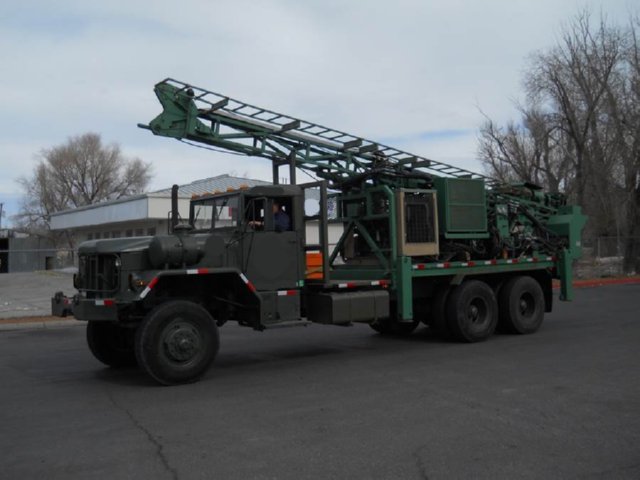 Manufactured 2000, Capacity 6000' of 3 1/6" wireline 3300' of ¼", main drum hoist- double line capacity 24000#, mast and feed system 11' travel. Angle drilling 45° - 90°, 20' rod length, Cummins 175hp 5.9 ltr. engine, drilling and spindle speeds, 4th gear ratio: 1300RPM x 488 ft/#, weight 4000#, FMC hydraulic head pump 37gpm at 700PSI, mounted on 2 ½ ton military vehicle tandem axle with diesel engine.  Excellent condition with modifications and improvements.  PRICE: $170,000
Extra equipment at extra cost
Mud mixing system, welder/generator. Light tower/generator, drill pipe, casing. Bits (tricone and diamond impregnated), reaming shells, core barrels and spare components, inner tubes and spare components, water swivels and spare components, overshots and spare components, mud pump replacement parts, trash pumps, mud hoses, hoist plugs, adapter subs, drill head replacement parts, replacement gauges, wireline cable, shipping containers, hydraulic hoses, pipe rack, fuel tanks, fuel transfer pumps, core boxes (cardboard), plastic mats.
---
CS 1000 (Ref#13389R)
Core drill, skid mounted with Isuzu diesel engine, ready to go  Price:  $90,000
---
ACKER MP3  (Ref#7815Rb)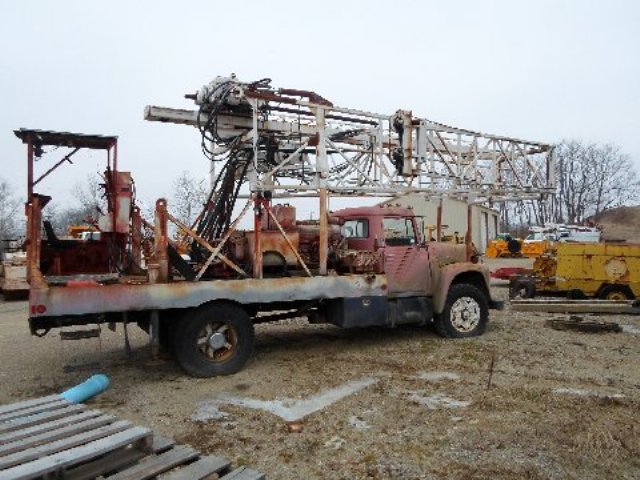 Duetz diesel on deck (complete replacement and rebuild) and all hydraulic motors, pumps, and functions and FMC triplex pump, new full spool wireline.  Mounted on 1977 International all wheel drive 2-1/2 ton truck with new 345 engine (500 miles on new engine, transfer case, and front differential), hydraulic TH drive, set up for NQ tooling, faded Enron paint, has drilled 1700-1800', parked since 2013  Price:  $30,000
---
SPRAUGE & HENWOOD 40C  (Ref#9152R) 
Manufactured 1980's, 3 cylinder Deutz diesel engine, skid mounted, on trailer  Price:  $24,500
---
SPRAGUE & HENWOOD 40  (Ref#6632R) 
Manufactured 1988, skid mounted, Waukesha 4 cylinder gas engine, 4' kelly bar, 15' tripod boom, new pump, good running condition  Price:  $45,000
HW, NW and DW casing available at additional cost
---
SPRAGUE & HENWOOD CORE DRILL MODEL B2-338 (Ref#4413R)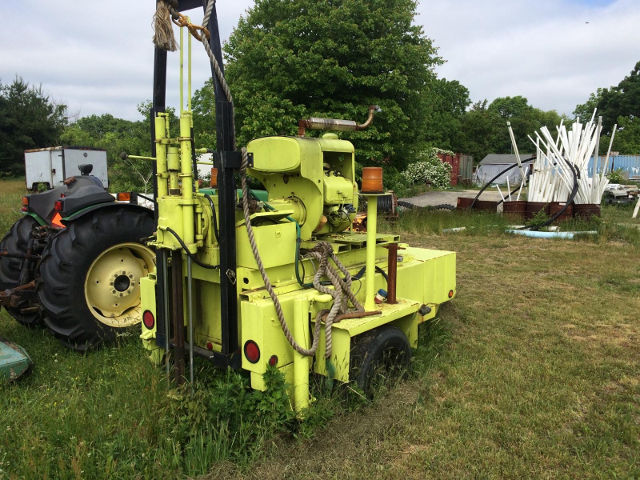 4 cylinder Wisconsin gas engine, mounted on single axle trailer, Sprauge gear box, used for test coring, 2012 hours (May 2015) 
Price:  $24,500 PRICE REDUCED: $16,500
---
DISCOVERY EF50 (REF#3199)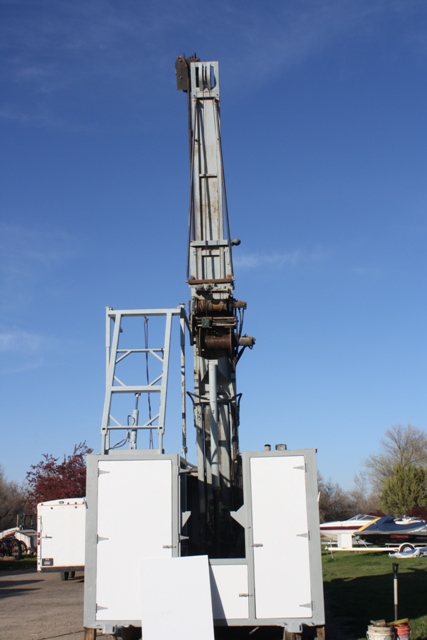 Manufactured 2007, Cummins 5.9 diesel engine, Bean 435 pump, mud tank, recent head and engine updates, shack, controls.  PRICE: $140,000
---
UNDERGROUND CORE DRILL (Similar to Hagby Drill)  (Ref#3268Rb) 
DE130 control panel, feed frame and head care capable of drilling HQ, 100 hp power pack.  Price:  $165,000
---
5' HQ DRILL RODS (Ref#3268Rc) 
Total 159 pieces (76 new still in bundles, 83 slightly used 95%)  Price for all:  $29,000