Marine Components for Sale
(2) LOADING RAMPS  (Ref#1666)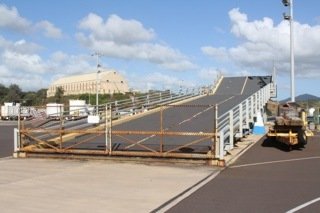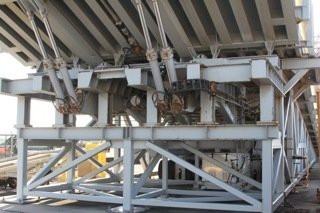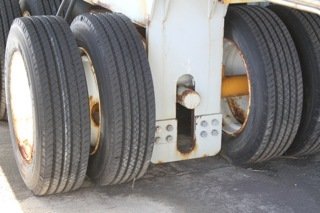 a.  160' x 27' large hydraulic loading ramp, new – never used, heavy duty steel contruction Price:  $350,000
b.  75' x 27' medium loading ramp, new – never used, heavy duty steel construction  Price:  $175,000
Located in Hawaii - cost $3,400,000 new 
---
SPUD LIFTING WINCH (Ref#2655)
(3) available. Handle 16" x 40' spuds
A. Deutz diesel, winch and hydraulic pump
B. Detroit 371 diesel, winch and hydraulic pump
C. Detroit 371 diesel, mechanically operated
Price: $35,000
---
SKAGIT TEN POINT MOORING SYSTEM  (Ref#584N) 
WMD-44 specifications:
2-3/4" diameter of ABS chain
Cast steel wildcat with standard five-whelp design for ABS chain
800,000 max pounds wildcat brake holding power
72" diameter x 12" width wildcat brake dimensions
Wildcat clutch: air operated jow clutch on the pinion.  Manual override is provided.
Air actuated chain stopper will hold and release loads in excess of the breaking strength of 2-3/4" ABS chain.
Approximate weight:  single wildcat: 52,000 lbs.,  Double wildcat 87,000 lbs.
(4) Skagit model WMD-44 double wildcat anchor windlasses, each consisting of two side-by-side units (one with motor and one less motor), arranged to be coupled together and powered by P&E 350 HP electric motors
(2) Skagit model WMD-44 single wildcat anchor windlasses powered by P&H 350 HP electric motors.
(2) Control cab assemblies (one cab to control two double and one single windlass)
(10) Skagit model DCF-44 deck mounted bullseye chain fair-leads for 2-3/4" chain
(1) Martin Decker tension indicating system (calibrated to exceed break strength of a 2-3/4" chain.
PRICE:  $650,000
---
450,000LB SKAGIT MOORING WINCHES (Ref#2544)
4 available, Model: Skagit, DMW-150. Built 1975. Double drum, 2" wire line. 450,000lb pull capacity with drums operating in tandem. Oilfield skid mounted. Electric powered. Weight: 61,500lbs each. As removed from drilling barge. Located India.
PRICE: Drastically reduced package price for all (4) from $220,000 to $150,000
---
ICE 80S PILE HAMMER  (Ref#1230Marine)  80,000 ft/lbs., minimum energy 32,000 ft/lbs., stroke at rated enginer: 10', speed 38-55 blows/min, bearings 400 tons  Price:  $25,000
---
AIR/FOAM UNIT (Ref#427)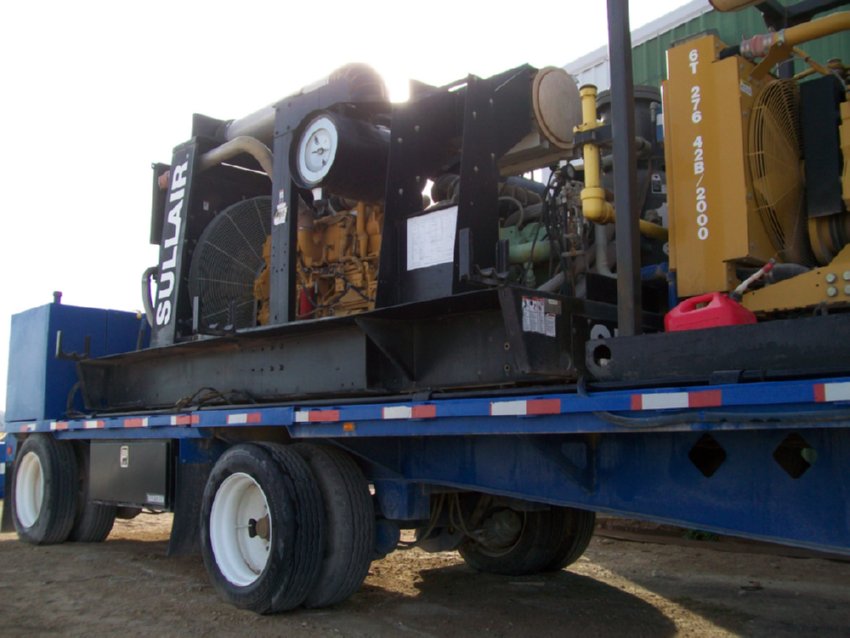 Manufactured 2005, Gardner Denver triplex pump with 97 hours, 1000 gallon fuel tank, Hurricane Booster 2000 psi w/437 hours
Sullair compressor 1150/350 with 450 hours
Mounted on Trailer
Price: $215,000.
---
(2) CATERPILLAR 3508 MARINE ENGINES  (Ref#695) completely overhauled and rebuilt, 1100 hp @ 1800 rpm, located Louisiana  Price: $110,000 each
---
A 36 GRADE A ABS STEEL  (Ref#702)
160 pieces, ½" x 4" x 40' flat bar
775 pieces, ½" x 6" x 20' flat bar (good spill rail material)
167 pieces 7/8" x 8" x 40' flat bar (good rub bar for barges/boats)
2 pieces 18" x 4" x 5/8" x 40' ship channel
83 pieces 9" x 4" x 5/8" x 40' split MC 18"
19 pieces 5/8" x 5" x 20' flat bar
All materials primer coated with mill certs
Pricing is 10% below mill price
Call for Pricing