DRILL RIG BARGES FOR SALE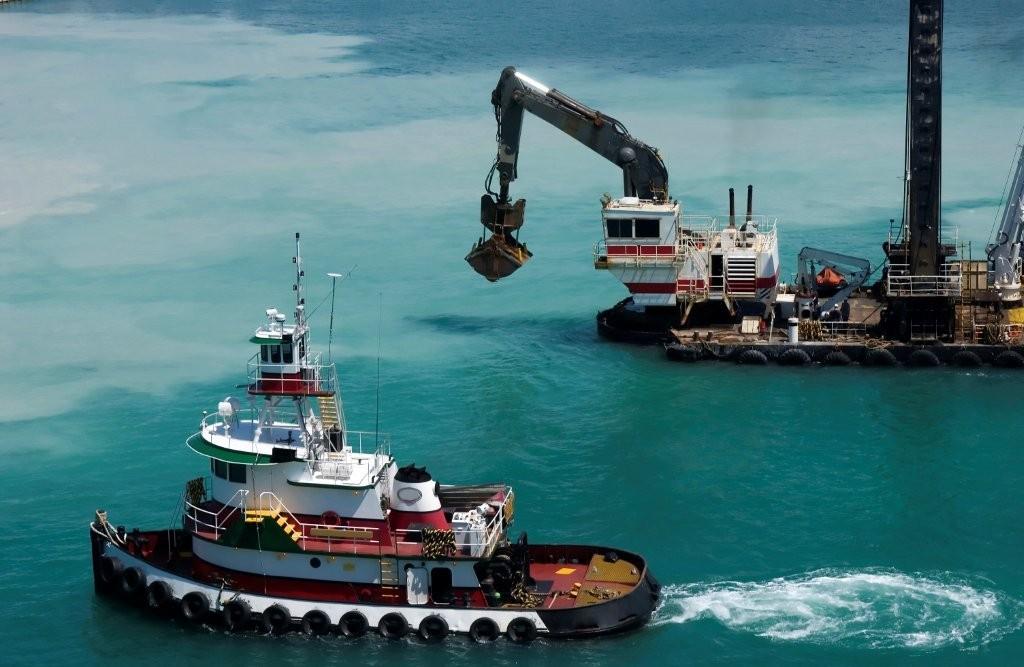 Call: (516) 536 7375, Fax:(516) 536 7317, Email: rigs@sunmachinery.us
GARDNER DENVER 1500-E 15,000' DRILLING COMPONENTS REMOVED FROM OFFSHORE RIG (Ref#M831)
(3) EMD 12-645-E1 diesel engines (1500 hp_, (1) Cat D353 diesel engine (435 hp, 1200 rpm) with GE 300kw AC generator
Lee C. Moore 142' x 30 x 30', 1,200,000# hook load derrick
Gardner Denver 1500E drawworks powered by (2) EMD D-79-MB 800 hp motors with 6032 electric brake
Oilwell 37-1/2" rotary with 2-speed transmission powered by EMD-79-MBG 800 hp motor
Oilwell 500 ton block with 6 x 60 sheaves grooved for 1-3/8" drill line
BJ 5500 Dynaflex hook 500 tons
Oilwell PC 500 swivel rated for 500 tons
Gardner Denver PZ10 triplex mud pump 1350 hp powered by (2) EMD D-79-MB 800 hp motors
Solids control system: (2) Derrick Floline shale shakers, (1) Derrick Floline mud cleaner, (1) Swaco GEXC degasser with 5 hp vacuum pump
10,000 psi Quality Valve 33 choke manifold with for H2S service, 10 x 3", 10,000 psi manual gate valves, 3 x 4" 10,000 psi gate valves, (1) Swaco hydraulic adjustable choke, (1) adjustable choke
Price: $1,100,000
---
OILWELL E-3000 PLATFORM RIG (Ref#371)
PRICE: $17,000,000

Sr. No

Description

Manufacturer

Qty

1

DSI ANGLE LEG TYPE DERRICK

DSI

1

2

OILWELL E-3000 DRAWWORKS

OILWELL

1

3

BAYLOR 7338W ELMANGO BRAKE

BAYLOR

1

4

OILWELL 650TON TRAVELING BLOCK

OILWELL

1

5

C/E CROWN BLOCK RA-60 650TON

CONTINENTAL EMSCO

1

6

OILWELL 37-1/2" ROTARY TABLE

OILWELL

1

7

GG 5" DP 350 TON ELEVATOR

WOOLEY

2

8

SDXL 5" DP SLIP

WOOLEY

2

9

WOOLEY DC SLIP 5-1/2" - 7"

WOOLEY

2

10

WOOLEY DC SLIP 6-3/4" - 8-1/4"

WOOLEY

1

11

BJ SDD TONG 6-1/2"

BJ

1

12

BJ DB TONG 3-1/2"

BJ

1

13

HAWK SPINMASTER 950

HAWK

1

14

WOOLEY SAFETY CLAMP 6" - 9-1/2"

WOOLEY

1

15

M/D WEIGHT INDICATOR SYSTEM

M/D TOTCO

1

16

M/D DEAD LINE ANCHOR

MARTIN DECKER

1

17

NOI ROTARY TORQUE/SPEED INDICATOR

NATIONAL OILWELL

1

18

M/D TONG TORQUE ASSY

M/D TOTCO

1

19

OI PIT VOLUME TOTALIZER SYSTEM

OILFIELD INSTRUMENT

1

20

OI MUD FLOW INDICATOR

OILFIELD INSTRUMENT

1

21

M/D DRILLING PEN RECORDER

M/D TOTCO

1

22

MATHEY SLICK LINE UNIT

MATHEY

1

23

BELL NIPPLE 13-5/8" x14' 5K

1

24

REGAN KFDJ 2000K DIVERTER

REGAN

1

25

KOOMEY T60280-3S ACCUMULATOR

KOOMEY

1

26

GREY INSIDE BOP 4-1/2"

GREY

2

27

HYDRIL; LOWER IBOP 10K 6-5/8"REG

HYDRIL

1

28

HYDRIL UPPER IBOP 10K w/AIR DOUBLE CAM

HYDRIL

1

29

TIW SAFETY VALVE 10K 4-1/2"IF

TIW

2

30

CLIFMOCK BOP TEST UNIT 15K

CLIFMOCK

1

31

OILWELL A1700AT TRIPLEX MUD PUMP

OILWELL

2

32

HARRISBURG CF PUMP 2x3 100HP

HARRISBURG

2

33

HARRISBURG CF PUMP 3x4 100HP

HARRISBURG

2

34

HARRISBURG CF PUMP 3x4 100HP

HARRISBURG

2

35

HARRISBURG CF PUMP 6x8 100HP

HARRISBURG

2

36

HARRISBURG CF PUMP 6x8 100HP

HARRISBURG

2

37

HARRISBURG CF PUMP 6x8 100HP

HARRISBURG

1

38

BRANDT ATL-CS-SS SHALE SHAKER

BRANDT

3

39

BRANDT ATL16/3 DRYING SEPARATOR

BRANDT

1

40

POOR BOY MUD GAS SEPARATOR

SUPERIOR FABRICATOR

1

41

BRANDT DG-5 VACUUM DEGASSER

BRANDT

1

42

CIW ADJUSTABLE CHOKE, MANUAL 3-1/16" 15K

CIW

2

43

CIW ADJUSTABLE CHOKE, REMOTE 3-1/16" 15K

CIW

2

44

HARRISBURG MUD AGITATOR 10HP

HARRISBURG

12

45

BULK TANK 820f2

3

46

BULK TANK 820f2

3

47

PIONEER PHL1000 AIR DRYER

PIONEER

1

48

STANDPIPE MANIFOLD 5" X5k

2

49

CIW CHOKE MANIFOLD 15K

CIW

1

50

ROTARY HOSE 3"x75'x5K

2

51

RIG 23, ACCOMMODATION MODULE

1

52

RIG 23, DRILLING SUBSTRUCTURE MODULE

1

53

RIG 23, POWER PLANT MODULE

1

54

RIG 23, MUD TREATMENT MODULE

1

55

FMC LINK-BELT 108B DECK CRANE

FMC

1

56

FORCE5 FA2.5MR24 AIR HOIST

FORCE5

1

57

FORCE5 FA2.5MR24 AIR HOIST

FORCE5

1

58

IR K5UL AIR HOIST

INGERSOLL-RAND

1

59

ALFA LAVAL MMB-3045-11 FUEL SEPARATOR

ALFA LAVAL

1

60

OMNI-PURE 12MX SEWAGE TREATMENT

OMNI-PURE

1

61

CURLEE BOAT DAVIT & WINCH

CURLEE

1

62

DETCON MULTI-GAS DETECTOR

DETCON

1

63

DETROIT CRANE ENGINE

DETROIT DIESEL

1

64

CATA D399 MAIN ENGINE 1175HP

CATERPILLAR

4

65

QUINCY QSI-500 AIR COMPRESSOR

QUINCY

1

66

QUINCY QSI-235 AIR COMPRESSOR

QUINCY

3

67

KATO GENERATOR 1050KW

KATO

4

68

ROSS HILL 1400 SCR UNIT

ROSS HILL

4

69

TRANSFORMER 1000KVA

2

70

BRANDT BAG BLOWER

BRANDT

2

71

MILLER SRH-444 WELDING MACHINE

MILLER

2

72

National PS2 Top Drive in UAE

NATIONAL OILWELL

0
---
SKAGIT TEN POINT MOORING SYSTEM (Ref#584N)
WMD-44 specifications:
2-3/4" diameter of ABS chain
Cast steel wildcat with standard five-whelp design for ABS chain
800,000 max pounds wildcat brake holding power
72" diameter x 12" width wildcat brake dimensions
Wildcat clutch: air operated jow clutch on the pinion. Manual override is provided.
Air actuated chain stopper will hold and release loads in excess of the breaking strength of 2-3/4" ABS chain.
Approximate weight: single wildcat: 52,000 lbs., Double wildcat 87,000 lbs.
(4) Skagit model WMD-44 double wildcat anchor windlasses, each consisting of two side-by-side units (one with motor and one less motor), arranged to be coupled together and powered by P&E 350 HP electric motors
(2) Skagit model WMD-44 single wildcat anchor windlasses powered by P&H 350 HP electric motors.
(2) Control cab assemblies (one cab to control two double and one single windlass)
(10) Skagit model DCF-44 deck mounted bullseye chain fair-leads for 2-3/4" chain
(1) Martin Decker tension indicating system (calibrated to exceed break strength of a 2-3/4" chain.
PRICE: $1,600,000
---
300 MEN ACCOMODATIONS BARGE (Ref#521) 113m x 28.5m, 7.31m, built 2009, Price: $33,500,000
Let us know if you have any vessels, barges, dredges or related equipment for sale.
Keep us in your files for any equipment that may become available in the future.
Call: (516) 536 7375, Fax:(516) 536 7317, Email: rigs@sunmachinery.us